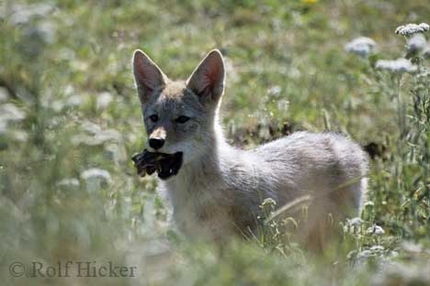 Many references indicate that coyotes were originally found in relatively open habitats, particularly the grasslands and sparsely wooded areas of the western United States. Whether or not this was true, coyotes have adapted to and now exist in virtually every type of habitat, arctic to tropic, in North America. Coyotes live in deserts, swamps, tundra, grasslands, brush, dense forests, from below sea level to high mountain ranges, and at all intermediate altitudes. High densities of coyotes also appear in the suburbs of Los Angeles, Pasadena, Phoenix, and other western cities.
Coyotes often include many items in their diet. Rabbits top the list of their dietary components. Carrion, rodents, ungulates (usually fawns), insects (such as grasshoppers), as well as livestock and poultry, are also consumed. Coyotes readily eat fruits such as watermelons, berries, and other vegetative matter when they are available. In some areas coyotes feed on human refuse at dump sites and take pets (cats and small dogs).
Coyotes are opportunistic and generally take prey that is the easiest to secure. Among larger wild animals, coyotes tend to kill young, inexperienced animals, as well as old, sick, or weakened individuals. With domestic animals, coyotes are capable of catching and killing healthy, young, and in some instances, adult prey. Prey selection is based on opportunity and a myriad of behavioral cues. Strong, healthy lambs are often taken from a flock by a coyote even though smaller, weaker lambs are also present. Usually, the stronger lamb is on the periphery and is more active, making it more prone to attack than a weaker lamb that is at the center of the flock and relatively immobile.
Coyote predation on livestock is generally more severe during early spring and summer than in winter for two reasons. First, sheep and cows are usually under more intensive management during winter, either in feedlots or in pastures that are close to human activity, thus reducing the opportunity for coyotes to take livestock. Second, predators bear young in the spring and raise them through the summer, a process that demands increased nutritional input, for both the whelping and nursing mother and the growing young. This increased demand corresponds to the time when young sheep or beef calves are on pastures or rangeland and are most vulnerable to attack. Coyote predation also may increase during fall when young coyotes disperse from their home ranges and establish new territories.