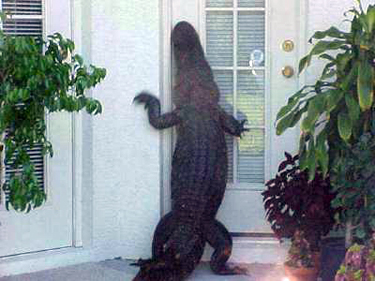 A 9-foot alligator was shot and killed by a game warden on the outskirts of San Antonio because the reptile appeared to have lost its fear of humans, authorities said. Several 911 calls alerted police to an alligator in an area near a lake and an apartment complex, police said. When the game warden arrived early Thursday, the gator had crawled off the road near a ditch.
Danny Shaw, a game warden captain with the Texas Parks and Wildlife Department, said the warden decided to shoot the gator because it was close to several residences and was unafraid to approach humans.
"We do not want it to have any contact with human beings," Shaw said.
He said most alligators avoid people, but this one was approaching an apartment complex.
Some gators are relocated to the Choke Canyon Reservoir in South Texas, but that wouldn't have been appropriate in this case because it's a public reservoir and not for gators without fear of people, Shaw said.
Lynn Cuny, director of Wildlife Rescue & Rehabilitation in Kendalia, said killing the animal was the "worst-case scenario."
"The obvious thing that's disturbing about this is lethal measures were used quickly," she said. "These are animals that can, of course, pose a threat. But my gosh, we need to look at everything in our power to not use lethal means."
Flooding rains have flushed many species from their natural habitats, she said.
"That's what's so sad," she said. "I think that animal would have gone back to his own space if he'd been allowed to."
Police officers helped the game warden load the dead alligator's body into a truck. Shaw said most of the body will be disposed, but some parts, including the skull, could be used for Texas Parks and Wildlife education programs.
Police responded to an alligator report in the same area in late April. That time, police were able to herd the reptile off of the main lanes of a highway and into a drainage ditch.
Authorities said there was no way to know if it was the same creature.