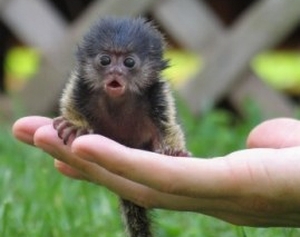 A man smuggled a monkey onto an airplane Tuesday while departing Lima, Peru, stashing the furry fist-size primate under his hat until passengers spotted it clinging to his ponytail. The man boarded a flight to Florida and then caught a connecting flight to LaGuardia Airport in New York. During the flight, people seated around the man noticed that the marmoset, which normally lives in forests and eats fruit and insects, had emerged from underneath his hat.
"Other passengers asked the man if he knew he had a monkey on him," said Spirit Airlines spokeswoman Alison Russell. Wow, people actually thought that maybe, just perhaps, the guy did not know he had a MONKEY hanging onto his scalp!
Passengers of the flight said that the monkey spent the remainder of the flight in the man's seat, behaved well, and was a delight to have aboard. The airline does not know how it skirted customs and security. One question: was the monkey checked for drugs?
Of course, airport police were waiting for the man and his monkey when the plane landed in New York, and the man was taken away for questioning. It was unclear at this time whether he would face any criminal charges.
The city's animal control agency said the monkey appeared healthy. However, the Centers for Disease Control and Prevention was planning to take it for disease testing and keep it quarantined for 31 days, CDC spokesman. If the monkey is healthy, it could wind up in a zoo.
The nickname of the monkey will be "Spirit."