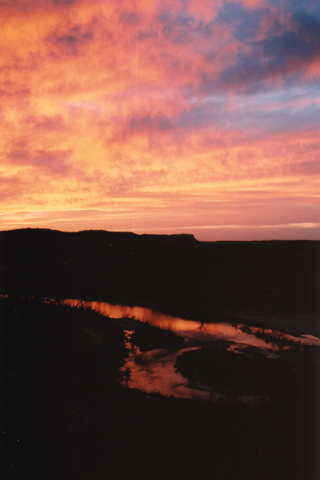 Nearly two decades ago, Gene and Linda Lowenthal, who were living in Austin, decided that they would eventually want to move to the wide-open countryside. They bought 58 acres in this small town in the Texas Hill Country, about 45 minutes west of Austin, built a small house and moved here in the mid-90's finally free of noise and sprawl.
That freedom lasted about nine years. Then, bulldozers started appearing on hillsides once covered with live oak and mesquite trees. Houses and traffic lights popped up on once-forlorn roads leading to their home. Plans for a water line were drawn.
The Lowenthals had to choose: stay, or travel farther out into the Hill Country. "We just wanted a small house where we could enjoy the land and be left alone," Mrs. Lowenthal said. "People could look at us and say, your land is worth 10 times more than what you paid' but what we wanted is going to be gone."
The couple, who are in their 60's  she is a hospice nurse, he an investment banker ˜ decided that they did not want to move again. They liked their land and their house, if not the encroaching edges of suburbia. So they decided to stay and to try to see that new subdivisions are built in the way they think is right. They teamed up with neighbors and are battling to keep open land and preserve water quality.
The Hill Country, an area that extends about 150 miles west of Austin, is quickly becoming suburban. With its rolling hills, lakes and rivers, it is attracting Texans eager to escape city life, and out-of-state buyers who can buy more acreage for less, real estate agents say, than they might pay in other states.
"People want to live out in the country," said Charles Gilliland, a research economist at the Real Estate Center at Texas A&M University in College Station.
Water, once so difficult to find, is, at least for now, not a problem because of new water lines. Thousands of new homes are planned, and last year the Real Estate Center reported that land prices had reached as high as $25,000 an acre. In certain areas, the prices have ballooned even further.
Ranchers and farmers, enticed by multimillion-dollar payouts, retirement or the lack of heirs, are selling thousands of acres of their large properties to developers eager to put up homes and strip malls. Other landowners, threatened with rising property taxes, see no option but to sell some of the land they have held in their families for many decades. Aging landowners are no longer interested in agricultural exemptions, so taxes rise if they don't keep farming or ranching. Many new landowners convert the property to an wildlife valuation-exemption.
The beauty of the Hill Country may also be its undoing. The crush of new people is likely to put more cars on county roads, pollute creeks and streams and eventually drain underground water supplies, according to the Save Our Springs Alliance in Austin.
In an environmentally sensitive area like the Hill Country, which sends water downstream to Austin, the stakes are particularly high. And the concerns have led to efforts, like those of the Lowenthals group, to curb development.
Locals have had some success, most notably with West Cypress Hills, a subdivision planned on 1,000 acres near Bee Cave. Three years ago, nearby residents sued the developer, accusing it of sending runoff into a nearby creek. In December, the developer agreed to clean up the creek, follow strict environmental rules and reduce the number of homes built. The fight prompted the county to put together stronger development rules.
Many Hill Country developers say they are trying to do what they can to preserve the region's rural feel, by setting aside land as open space and putting homes on large lots.
The singer Willie Nelson, who is carving off 65 acres of his 688-acre ranch for upscale homes on large lots overlooking the Pedernales River in Spicewood, Tex., says he plans to leave most of his land untouched.
In the first phase of Mr. Nelson's project, Tierra Vista, 41 lots will range in size from one to two acres and cost an average of $175,000. Work on roads and utilities is expected to start this month.
At Belvedere, an upscale subdivision in Bee Cave, more than a quarter of the 443 acres will be used for a nature preserve. Homes will sit on one- to three-acre lots and range in price from $850,000 to $1.5 million. About 30 houses are under construction. The few that have been completed have sold quickly, said its developer, Joel Robuck, because buyers want a "little more land, vistas and trees nearby."
A population explosion in Austin and in nearby San Antonio is also helping to rework the face of the Hill Country. In the 1990's Austin's population jumped 33 percent, to more than 656,500, while San Antonio's grew by 15 percent, to 1.1 million, according to the 2000 census. In the last seven years, Austin's population has grown by an additional 12 percent and San Antonio's by 15 percent.
In addition, the Hill Country has experienced "a huge infusion over the last few years of people who come and see it as a low-cost alternative to Arizona, Florida or Nevada," said Eldon Rude, Austin market director at Metrostudy, a residential home consultancy. "They can build a big house on a lot of acreage for less than where they came from."
When Randall Rudy turned 50, he and his wife, Karen, left Los Angeles so they could raise their children in Texas. Mr. Rudy, an actor and a native of Houston, wanted his children to grow up in a "warm and fuzzy area" with plenty of Southern hospitality. Not quite a year ago, they moved to Bee Cave and are building a 5,500-square-foot house with a pool, a Jacuzzi and a five-car garage in the Belvedere development. They expect to move in at the end of July.
"There is still a lot of wide-open space and good views in every direction," Mr. Rudy said. "You get a lot more space, and it's more human than L.A."
Although growth had nibbled at the edge of the Hill Country for years, it never got far because there was never enough water. What little water there was could be found in creeks and underground aquifers, making people dependent on the weather and wells.
"Water is as important as land," said James Kerby, owner of Kerby Development in Austin, who is planning a 500-acre development next to the Lowenthals' home.
But in the last five years, the Lower Colorado River Authority, which controls regional water supplies, has made it possible to put up thousands of new homes. The utility, at the behest of developers and some residents, has been laying new pipelines across the Hill Country that carry lake water to outlying areas. But in the process, it has run into protests.
"The L.C.R.A.'s willingness to bankroll developers is destroying the Hill Country," said Bill Bunch, executive director of the Save Our Springs Alliance.
The utility, meanwhile, contends it has to sell water to anyone who wants it. There is plenty of water in nearby lakes, it says, and the utility can ease the strain on the aquifer by installing pipelines. "If we have the water, then legally we have to provide the water," said Joseph J. Beal, the authority's general manager.
With no regional plan and little regulatory power, most counties have had little say in corralling development. Some cities have started reworking their development codes only in the last few years, while others have imposed building moratoriums on developers to buy time. Since 1998, Austin voters have approved $128 million in bonds to pay for land and easements to stave off development.
The Capital Area Metropolitan Planning Organization, a regional planning group, is putting together a proposal to coordinate road and land use. A draft is up for approval by the end of this year, and the group will go to counties and cities to try to persuade them to implement it.
The effort comes at an important time. Regional authorities estimate that by 2030 the population of the greater Austin area will have doubled, to three million.
Local residents are also trying to help. The Lowenthals and Mr. Kerby said an agreement was close that would reduce the number of homes he wants to build from the 464 he is planning, though they would not discuss details.
"To us," Mr. Lowenthal said, "the land is everything. And we feel a sacred trust to protect it."