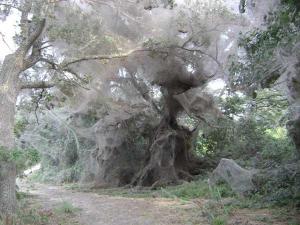 A colonial spider web, that can only be described as "Texas size," at Lake Tawakoni State Park attracted close to 3,000 public visitors who came specifically to see the web this past holiday weekend. The visitors were coming in large part because of a tidal wave of news media coverage. Both factors have had park employees hopping to respond to inquiries from the public, media, as well as the scientific community.
[youtube haf3X5i7XEI]
The list of news organizations that have covered the big web includes National Geographic Magazine, CBS and NBC network TV news, the BBC and many others. On Friday, a writer for the New York Times contacted the park to say "the story was currently Number 1 on the list of most emailed stories from today's edition of the New York Times, and was the lead story in the Nation section of the print edition." That same day, the park recorded 172 people visiting the park to see the spiders. I guess this is big news around those parts. 
This pas Saturday, 812 people came, and on Sunday the number climbed to 1,077. On Monday, Labor Day, the park recorded 1,275 people visiting specifically to see the amazing web. The park manager stated, "If I could just train them to give a good foot massage, I think all of my staff would appreciate it." We are happily exhausted. The field rangers and park hosts, besides keeping the park cleaned up, took turns and sometimes teamed up to handle the crowds down at the web site.
The Adjunt Curator of Arachnids with the Sternberg Museum of Natural History, Fort Hayes State University, Kansas, began a five-day study of the web and its inhabitants." Texas Parks and Wildlife Department officials dropped other business and headed to the park late last week when it became clear the web was a major natural and media phenomenon. Numerous news interviews and collected spider samples were taken to Texas A&M University for analysis.
For details, see the Times story Times story.