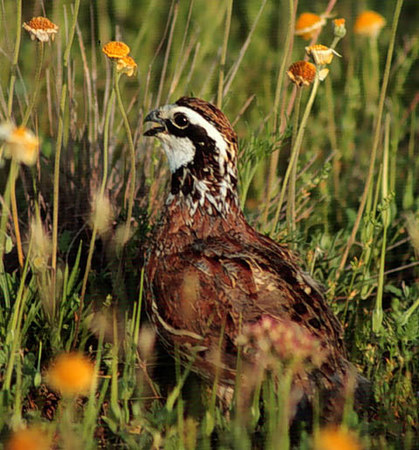 Methods of estimating bobwhite abundance often are expensive, time-consuming and limited to small areas. Recent research by biologists with the Caesar Kleberg Institute, Texas A&M University-Kingsville, indicates helicopter counts might be useful for censusing large areas at reasonable costs.
Joshua P. Rusk and associates tested counting methods on the King Ranch, Brooks County, Texas, during 2001–2005. They compared density estimates from walking transects with those obtained from helicopter transects. During a walking transect, biologists walk straight lines. When they flush a covey, they record the number of birds and the right-angle distance from the transect line to where the covey flushed. The distance measurements provide a means of estimating the effective width of survey coverage (in the same manner as the first article in this edition). Helicopter transects were conducted in a similar manner.
"Helicopter transects appear to be a viable alternative to walked transects for estimating density of bobwhites, especially when densities are low and walked transects are impractical," the scientists reported. "Because helicopters are already being used extensively for white-tailed deer surveys in southern Texas, information necessary to estimate bobwhite density could be recorded for little additional expense.
For further information, contact Fidel Hernàndez at Caesar Kleberg Wildlife Research Institute, Texas A&M University-Kingsville, Kingsville, TX 78363. Ask for a reprint of An Evaluation of Survey Methods for Estimating Northern Bobwhite Abundance in Southern Texas.