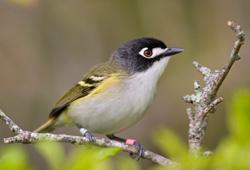 Environmental Defense, the Central Texas Cattlemen's Association and the U.S. Army at Fort Hood share a common desire: They want to see the federally endangered black-capped vireo (Vireo atricapilla) recover within the next decade. And these unlikely partners aren't just hoping the bird recovers: they're working together on the ground to make it happen.
Recovery of an endangered species is fundamental to Environmental Defense's mission, but why would a Cattlemen's Association and the Army care about the well-being of a 4.5 inch-long songbird? The answer is that they expect that the vireo's recovery will ease Endangered Species Act regulatory liability and land-use restrictions. As an additional bonus, restoration and maintenance of vireo habitat have proven compatible with livestock and military training activities.
When the black-capped vireo was listed as endangered in 1987, the population was estimated at only about 350 adult birds. Habitat loss and parasitism by the brown-headed cowbird (Molothrus ater) were the primary factors in the bird's listing. The 1991 recovery plan delineated six recovery units: four in Texas, one in Oklahoma and one in Mexico. Data on population sizes and distribution were extremely limited when the recovery plan was written: Most of the vireo's likely habitat was on private land, and very few surveys had been conducted.
Environmental Defense entered the world of black-capped vireo conservation in 1999 believing that the right combination of incentives could persuade a significant number of private landowners to restore vireo habitat. From our Austin office, we initiated the Landowner Conservation Assistance Program to give landowners technical guidance and cost-share assistance for habitat restoration projects and a Safe Harbor Program that enables these same landowners to sign a cooperative agreement administered by Environmental Defense and approved by the U.S. Fish and Wildlife Service.
As with all Safe Harbor agreements, the landowners receive regulatory assurances that their efforts on behalf of the species will not result in any additional land use restrictions. These incentives have proven effective both in enlisting landowner participation and in restoring habitat. We are now working cooperatively with over 70 landowners representing over 110,000 acres of ranchland in 14 central Texas counties. Over 6,000 acres of restored habitats are enrolled in Safe Harbor agreements. As a result of these and other conservation efforts, and those of our partners, nearly 6,000 pairs of vireos are now known across the breeding range.
Landowners want a variety of wildlife
How was this success achieved? The underlying common motive for most landowners seems to be the desire to implement management activities that encourage a variety of wildlife. And habitat management for the black-capped vireo also benefits many native game and non-game species. Specific landowner goals include enhancing wildlife viewing opportunities, maximizing hunting lease income and qualifying for a wildlife property tax valuation. Hunting leases are lucrative in Texas, where over 90% of the land is privately owned.
The wildlife property tax valuation has been a huge boon for Texas wildlife in general and endangered species in particular. It enables a landowner with an existing agricultural property tax valuation—based on the land's ranching or farming potential—to convert the property to wildlife management and retain the same relatively low level of taxation. Participating in black-capped vireo recovery efforts (through habitat restoration, surveys and other means) helps a landowner meet the wildlife valuation criteria.
Many central Texas landowners have "sold off the cows" and converted to wildlife management, but a substantial number of landowners with modest-sized properties continue to ranch to generate income and maintain family ranching heritage. This is especially true in the landscape immediately north of Fort Hood, where more than 80 families are members of the Central Texas Cattlemen's Association. Many of them are contributing to vireo recovery efforts by restoring habitat and controlling cowbirds. Their work is especially important for the vireo because, as a result of Fort Hood's many years of good habitat management the available habitat is fully occupied, and young vireos born there are venturing out to colonize new habitat on nearby private lands.
Prospects are good for vireo recovery
This is all good news for the vireo. To build upon this success, Environmental Defense is expanding its landowner programs into the western portions of the vireo's breeding range where more work is needed to achieve rangewide recovery. We worked with the Natural Resources Conservation Service to create a unique Farm Bill program designed to provide cost-share support to landowners who are willing to restore and maintain vireo habitat in the greater Concho Valley of west-central Texas. This Environmental Quality Incentives Program initiative enrolled its first participant in early 2007 and, with support from the National Fish and Wildlife Foundation, we expect to generate additional landowner interest and build participation in this program.
Other funders of Environmental Defense's black-capped vireo work include the Doris Duke Charitable Foundation, the Leopold Stewardship Fund of the Sand County Foundation, the Meadows Foundation and the Kronkosky Foundation.
Environmental Defense and its partners are optimistic about the vireo's prospects for recovery. Two decades of stewardship by the Department of Defense and other federal and state partners and incentive-based habitat restoration by private landowners have made substantial progress toward recovery goals. We are now working to fill in the remaining gaps in habitat restoration and conservation efforts to achieve rangewide recovery goals for the black-capped vireo.