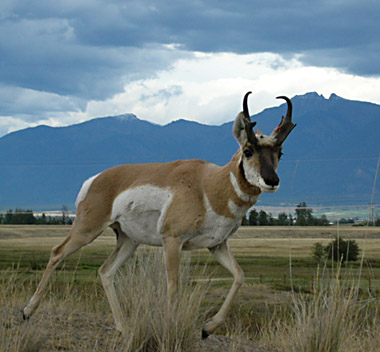 Hunting pronghorn in Wyoming remains the most enjoyable, most affordable, highest success hunt in The West. It's perfect for do-it-yourself hunters, and even first-time pronghorn antelope hunters can expect an excellent chance of success. I've hunted antelope every year but one since 1992, and can't imagine when I'll next miss a hunt this fun.
The hunt I took this year was a great example of how enjoyable and successful antelope hunting can be. We had a large, diverse group, including 2 first-time antelope hunters and 3 first-time-ever hunters. Hunt The West pro-staffer Paul Vanderspek and I rounded out the group.
Spek had a buck tag and a doe tag in Unit 32. I had a buck tag in Unit 42, an area where I had private land access. The rest of the group had doe tags for Unit 32.
Unit 32 (and neighboring unit 47) offer lots of public land, lots of pronghorn antelope, and even access to private land via the Wyoming Game and Fish Department's Hunter Management Area program.
In a 2.5-day hunt, our party got 1 buck and 2 does off of BLM land and 2 does off of the Muddy Mountain HMA. Two of our hunters also missed shots on does. Then, after our hunt along the Shirley Rim wrapped up, I headed down to Unit 42 and picked up a buck.
To hunt antelope in Wyoming, all you need is an accurate rifle, a 4×4, a tent, and some BLM maps. The only specialized item I would recommend is a Harris bipod for your rifle. It's hard to overstate how much these help when antelope hunting. And, be prepared for changing weather.
Unit 32 and 47 both offer great opportunity, as do many other units in Wyoming. Buck tags cost about $250, but doe tags are a steal at a bargain basement price of $42. Applications are accepted January 1st through March 15, although you can often get leftover doe tags if you miss the deadline.
Just remember — do not take long shots, and do not shoot at moving animals. Antelope hunting is all about spot and stalk, using the terrain to hide your movements, playing the wind, and doing some good old-fashioned belly-crawling to get up on unsuspecting animals. The longest shot I've ever taken with a rifle on an antelope is 200 yards. Shots of 100 yards or less are much more common, and I've taken a couple of my bucks at around 40 yards.
Pronghorn meat is excellent eating, tender and juicy, some of the best venison you can find.