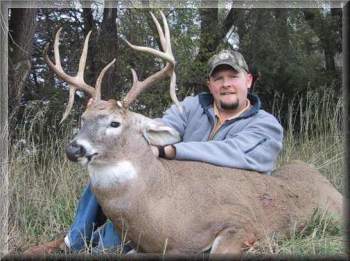 The good news and the bad news about Nebraska's deer season is that it's 9-days of rifle hunting smack during the middle of the rut. Good news, because hunting rutting whitetails is a hoot. Bad news, because young bucks experience lots of mortality, many never getting a chance to reach their potential. Couple this with the fact that hunters can each take two bucks (again, a good news / bad news kind of thing), and the bucks get hit really hard each year.
The 2007 Nebraska season appears to have been about average. The weather was warm, the warmest deer hunt I've ever been on, but the bucks were in full rut.
I hunted near Ogallala for the last 3 days or so of the season that opened November 10th and ended on the 18th.
The 4×4 I took was very hot on the tail of a doe, chasing her aggressively through the brush. Through a combination of tough luck and being selective (OK, mostly tough luck), I had not tagged a buck for several years, and when I saw he was a 4-point I knew I wanted to take him.
After I first caught a glimpse of him, he disappeared into the brush as he circled to cut off the doe. The doe disappeared through an opening, and I trained my scope on the opening, hoping that the buck would enter it.
As I watched the opening, he seemed to just materialize in my scope at 140 yards. I dropped him with my 7mm-08, a gun I had purchased specifically with Nebraska river-bottom whitetails in mind.
The Game, Fish, and Parks employees at the check station aged him at 2 and a half. He's a nice little buck, and I've had a tough year, so I was glad to get the venison and didn't regret taking him. But it sure makes you wonder what he could have been if he had had a chance to age a couple more years.
Game, Fish, and Parks did take some steps to reduce harvest this year. But they did this by changing the bag limit on bonus doe permits to 1 or 2 (depending on your area) from "unlimited."[CORRECTION: Actually, they did not decrease the number of anterless deer you're allowed to take. There is no limit on the number of anterless permits an individual is allowed to buy (although they are limited by area), and some of these permits (called "Season Choice Permits") actually allow you to take 2 deer per permit instead of just 1. I had misinterpreted "bag limit" to mean bag limit per season, but Nebraska uses it to mean bag limit per permit).
Steps to improve the age class of bucks could also be worth considering, perhaps reducing the bag limit on bucks from 2 to 1, for example. I love hunting whitetails, but would be happy to give up on quantity to get quality.