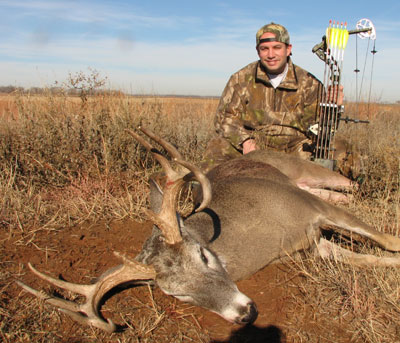 The rifle whitetail action in north-central Kansas continued to be slow but steady through the first full weekend of the season. The hunters and outfitters of Washington County, Kansas continue to be largely frustrated in finding the big bucks that this country is known for, although a handful of really nice bucks have shown up in the back of pickups at the local diner around lunch time. The freezing rain that fell across much of the state on saturday morning dried up within 24 hours or so, making dirt roads passable again. Even with access restored, there was still pretty little shooting going on.
The good news is that the bucks are definitely still rutting. We saw a mature buck tending a doe at 2:00pm on saturday, and another with his nose pressed to the ground on the trail of a doe on sunday morning. The bad news is that with mild weather and plentiful food sources, the deer seem to be widely scattered. With dozens of pockets of cover in every quarter-section, stand hunting has been a long-shot. There's just too many places the deer could be using.
Drives seem to have accounted for the majority of the bucks being taken. Drives, however, don't allow hunters much time to judge trophy quality before shooting, an unfortunate limitation in a state with such great potential for identifying big white-tailed deer. I ended up taking a modest 4×4 on the last day of my hunt, a few hours before I had to head home. We kicked him out of some cover and sent him running up the opposite side of a draw.
Seeing a 4×4 rack and a big body, I had at most 2 seconds to shoulder my rifle, judge him, and take him. The buck dropped to a single pretty nice shot at about 100 yards. The 2007 Kansas deer season runs from November 28 to December 9. Hunters who are still working on filling a tag should have lots of bucks still out there, but it may continue to be tough to find them.