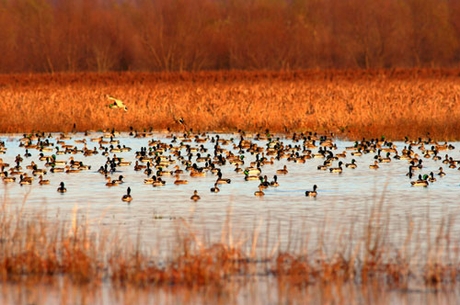 How many duck hunting camps are there are around Greenwood? "Hundreds," Henry Flautt says. He then explains to how duck hunting has driven land values around the Delta to record levels. "It's unbelievable."
It wasn't always that way. We are sitting in a duck blind that Kenneth Thompson's family bought for 50 cents an acre in the 1930s so their son could have a place to hunt. The land had been cut over and nobody wanted to pay the taxes on it. So it sold for pennies at a tax sale.
Fast forward to present day and currently the land is worth thousands of dollars an acre – simply as a place to hunt teal, gadwall, and mallard. Heirs of Atlanta's Cox family just purchased thousands of acres in Carroll County. The Gaylord's, Oklahoma City's publishing family, recently purchased a huge tract of Delta land. Their sole purpose: to hunt ducks.
The lure of duck hunting cuts across social lines: Locally owned Mean Mallard (where I shop) is packed with people and gear. Do I even need I mention Bass Pro Shops?
Some of the more elaborate duck hunting lodges are known by name and are mentioned with awe. Affluent hunters, often from north Jackson, will spare no expense. Roughing it has been replaced by opulence. One Delta lodge owned by six or seven doctors has three stories: one story of suites for each owner; another story with suites for each owner's guest; and the bottom floor for all their toys.
There are Delta hunting lodges that would put my wife's fancy kitchen to shame. Call of the Wild meet Lifestyles of the Rich and Famous.
I have known and liked Henry Flautt for 30 years since growing up in Greenwood. He took my father on his first duck hunt at Equen Plantation in Minter City. He was clearly tickled to take me on my first duck hunt. "Two generations of Emmerichs," he chuckled to himself. Retired, he tries to hunt every day during duck season.
My brother-in-law oilman Steve Stringfellow, visiting from Austin, has gone duck hunting with Henry on several occasions. I suspect the prospect of a good duck hunt was a big motivating factor leading he and his family, including my sister, to come to Jackson for Christmas. Duck hunting really is a big deal along the central flyway.
Duck hunting land values are going up and hunters are declining, is their a close relationship?