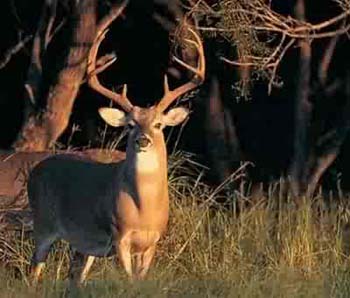 What is LAMPS?
LAMPS is an automated antlerless deer permit issuance program adopted by Texas Parks and Wildlife Department (TPWD) for the Pineywoods and Post Oak ecological regions. LAMPS permits allow antlerless deer to be taken in an otherwise buck-only season.
Who is eligible?
Any landowner (or eligible person with permission from the legal landowner) may apply for the LAMPS program participation on properties in counties where LAMPS permits are available. The property must meet minimum acreage and habitat requirements. Meeting the minimum requirements make you eligible to apply, but does not guarantee permits. To see if you are eligible, please use the LAMPS Application Screening Form.
If the property is smaller than the minimum acreage requirement, adjoining properties can be enrolled together to meet the requirement. Separate non-adjacent parcels of land must have separate applications. If the property occurs within two or more counties, the county in which the majority of property occurs will be used for determining requirements.
Is LAMPS for you?
By applying for LAMPS permits, you are indicating a willingness to harvest antlerless deer.
TPW biologists evaluate county data to determine which counties can biologically sustain more deer hunting opportunity. It is still up to landowners and hunters to ensure proper harvest levels on individual properties.
If your goal is to improve the quality of deer on your property, and maximize deer harvest, basic range and forest management practices must also be implemented. TPW biologist are trained in wildlife habitat management and are available to assist you in designing management practices that will improve the quality of your wildlife habitat and deer herd.
What will be expected of you?
– Complete a LAMPS Permit Application providing accurate information on the estimated amount and types of habitat on the property.
– Sign a statement acknowledging your awareness of penalties associated with falsified information.
– Report information annually on the number of deer hunters on the property and any deer seen/harvested.