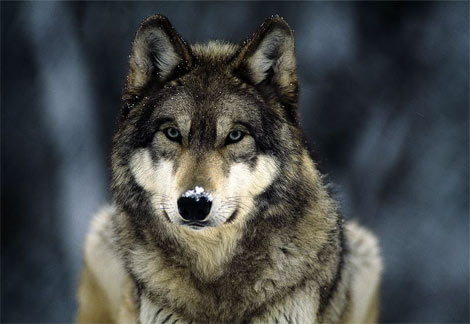 Gray wolves in the Northern Rocky Mountains are increasing in population size and no longer requires the protection of the Endangered Species Act, Deputy Secretary of the Interior Lynn Scarlett announced today. As a result, the U.S. Fish and Wildlife Service will remove the species from the federal list of threatened and endangered species. Scarlett said:
"The wolf population in the Northern Rockies has far exceeded its recovery goal and continues to expand its size and range. States, tribes, conservation groups, federal agencies and citizens of both regions can be proud of their roles in this remarkable conservation success story."
There are currently more than 1,500 wolves and at least 100 breeding pairs in Montana, Idaho, and Wyoming. Service-approved state management plans will provide a secure future for the wolf population once Endangered Species Act protections are removed and the states assume full management of wolf populations within their borders. The northern Rocky Mountain DPS includes all of Montana, Idaho and Wyoming, as well as the eastern one-third of Washington and Oregon, and a small part of north-central Utah.
The minimum recovery goal for wolves in the northern Rocky Mountains was set at a minimum of 30 breeding pairs (a breeding pair represents a successfully reproducing wolf pack) and a minimum of 300 individual wolves for at least three consecutive years. This goal was achieved in 2002, and the wolf population has expanded in size and range every year since.
"We're confident the wolf has a secure future in the northern Rocky Mountains and look forward to continuing to work closely with the states as we monitor the wolf population for the next five years."
"These wolves have shown an impressive ability to breed and expand – they just needed an opportunity to establish themselves in the Rockies. The Service and its partners provided that opportunity, and now it's time to integrate wolves into the states' overall wildlife management efforts," said Service Director H. Dale Hall.