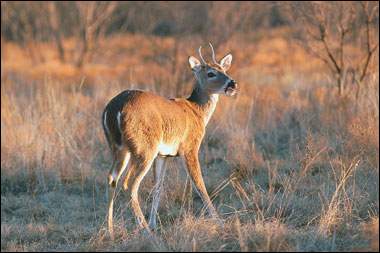 Dr. James Kroll, Stephen F. Austin State University professor, argues that spikes should be removed from restrictive antler regulation if the goal is to protect young white-tailed bucks.
With requests from hunters and landowners in hand, Texas Parks and Wildlife Department is considering another round of expansion of counties operating under special antler restrictions.
Already the rule in 61 counties statewide, the department is now considering expanding into 11 additional Pineywoods counties for the 2009-10 hunting season. Those on the current shortlist include Angelina, Hardin, Jasper, Liberty, Montgomery, Newton, Polk, San Jacinto, Trinity, Tyler, and Walker.
Under the regulation a legal buck is described as one with an inside spread of at least 13 inches or a spike. Hunters are restricted to just one of the larger bucks.
The goal of the regulation is to improve the age structure of the deer population by taking more pressure off the 1 1/2-year-old and 2 1/2-year-old bucks. It is, some would say, a case of the state getting neighboring landowners and hunters to do what the landowners and hunters can't get each other to do.
"The deer herd in these counties is in very similar condition to what the herd in the northern 16 counties used to be before the restrictions," said TPWD Wildlife District Leader Gary Calkins of Jasper. "We're seeing high harvest of 1 1/2- and 2 1/2-year-old deer and high hunting pressure. The harvest of 1 1/2 and 2 1/2-year-old bucks is right at 70 percent of the buck harvest.
In preparation for adding the counties, TPWD has been holding public meetings around East Texas to gauge public support.
"If we assume the antler restrictions are an option on a regulatory basis (at a county or regional level), our next step would be looking at additional counties," said Calkins. "We have data on harvest pressure and there are obviously areas that are getting hit hard, but we'd also like to get a handle on public sentiment."
One person who won't be attending the hearings is Dr. James Kroll, the mercurial Stephen F. Austin State University wildlife professor. A supporter of the restrictive harvest concept, Kroll spoke his mind at a recent TPWD white-tailed deer advisory board meeting. A lightning rod for criticism, Kroll apparently made no friends again when he took the department to task over his opposition to the spike buck component of the regulation.
It is something Kroll stayed somewhat quiet about when the regulation was first proposed. Now backed with data from an 11-year, million-dollar study, Kroll is no longer straddling the fence.
"I want them to remove the spike deal," Kroll said from Nacogdoches last week. "There is no reason to shoot spikes. The whole idea is to protect yearlings."
In his earlier comments Kroll took the department's Kerr Wildlife Management Area spike study to task. The study, which has for years been the foundation of the department's management recommendations, showed that a spike is destined to be an inferior buck throughout its life. Kroll said his study, which used free-ranging South Texas deer showed something much different. He also noted that there has never been another study conducted that duplicated the Kerr findings, a study itself that has been criticized by some for its methods.
"All differences go away at age 4, and that is the mature age for a whitetail buck," Kroll said.
According to the SFA study, almost 48 percent of the 1 1/2 years old, both spikes and fork-antlered bucks, grew to be 130-class deer at 4 1/2. The percentage that became 150-inch-plus deer was also statistically equal.
"It makes no sense to include spikes. If the reason for the regulation is to ">improve age structure they shouldn't include genetics. That is for people with high fences. A state agency shouldn't go there. They should be focusing on age, nutrition and habitat. All this takes away from that, and it possibly limits future opportunity," Kroll said.
Instead of working on the three keys to deer management, Kroll said hunters and landowners hang to the concept of shooting spikes because it is the easiest option even if it isn't the best. Kroll is part of a school of thought among biologist that no buck should be culled before 3 1/2, and there is growing evidence that even then culling won't have an impact on herd genetics.
One TPWD argument for including spikes, a throw-in deer to encourage hunter support for the regulation, is that they make up only a small percentage of the buck deer population. Kroll said that is true on a year-to-year average, but added that while some years the number of spikes will be miniscule there are other years it could represent the majority of the young-buck herd.
"It changes by year. Our study shows that the percentage goes up and down and because it goes up and down that shows it is not genetic," he noted. Kroll added that there is no known link to years in which spike numbers are up or down.
"We tried to show a climactic shift. I thought we could, but after a few years we threw that out," he said. That leaves a much larger pool of possible factors, including the role of the doe genetically and in its ability to raise its offspring.
Not surprisingly Kroll received a cool reception from TPWD, which has historically been unwilling to reconsider the Kerr study findings. Some call the defense a personal issue with some staff members, others say the money spent over the past 25 years on the research is something the department won't turn its back on.
"There are facts and things that are not facts. A good scientist doesn't have a dog in the fight. If we would have found the direct opposite, it wouldn't have mattered to me," Kroll said, adding he didn't expect to change anyone's mind going into the meeting and left feeling he hadn't.
"I have said my peace. I am tired of messing with them. I have made my recommendation. If they don't want to listen, fine. I am working with some other states that want to do it right," Kroll said.
The wildlife division is working on regulations that won't even be considered by the commission until spring 2009. Hunters, landowners and biologists will still have plenty of time to debate the issue before anything is done or not done.
By Steve Knight
Reprinted from Tyler Morning Telegraph