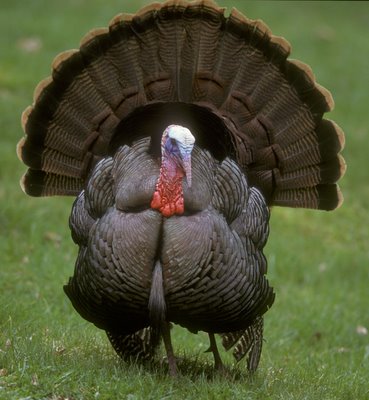 Turkey hunters should get plenty of calling action this spring, based on field reports of an abundance of Rio Grande gobblers observed by Texas Parks and Wildlife Department biologists. "I have been getting reports from many of our field biologist and they all agree that this is going to be a good season in Rio Grande turkey country due to the 2007 spring and summer rains and mild temperatures," said Jason Hardin, TPWD turkey program coordinator.
"Some of the guys mentioned last year seeing new poults as late as August. That probably means these birds had ample opportunity to re-nest two to three times over the summer. So, there should be lots of jakes seen, making it a fun year to call in lots of birds. There will be plenty of mature gobblers, as well, so hunters should not hesitate to get in the field."
Rio Grande spring turkey hunting season opens in the North Zone March 29 and runs through May 11. Special youth-only weekends are set for March 22-23 and May 17-28. The South Zone opens March 15 and runs through April 27, with youth-only weekends set for March 8-9 and May 3-4.
The spring eastern turkey season is open in 43 East Texas counties from April 1-30. TPWD harvest surveys estimate nearly 88,000 hunters take part in Texas' spring turkey season and take about 23,000 gobblers. Most of the state's spring turkey hunting activity occurs in South Texas and in the Hill Country, where Hardin noted timely rainfall could give the bird population a boost. Landowners with a turkey management program focused on habitat enhancment could see great gains if mother nature helps out.
"It wouldn't hurt to get a little rainfall to green it up," he said. "We still have some herbaceous plants on the ground, but it has been extremely dry in South Texas. The birds are still going to be active, but some rain would kick things off faster."
On the other hand, Hardin noted, there was too much rain in East Texas and many of the Eastern turkey poults did not survive. "Too much exposure in the first few weeks will lead to low survival," he explained. "However, the population as a whole is stable and will probably provide an average hunting season."
Statewide regulations allow the use of shotgun, rifle, handgun, legal archery equipment or crossbow to take Rio Grande turkey depending on regional turkey management goals. However, individual landowners and public hunting areas may further restrict the devices to be used. The bag limit for Rio Grande turkey is four turkeys per license year. Regulations and bag limits vary by county, so check the county specific rules where you are hunting. Only gobblers are allowed to be harvested during the spring hunting season. Consult the 2007-08 Outdoor Annual for season dates and bag limits in your area.
Eastern turkey hunting is limited to shotgun, lawful archery equipment or crossbow, with a one-gobbler bag limit. All harvested eastern turkeys must be taken to a check station within 24 hours. To find the check station nearest you, contact a TPWD field office or call (800) 792-1112.
"Hunters are probably not going to see a lot of young gobblers because we likely lost production due to rains throughout the nesting season last year," added Gary Calkins, TPWD district wildlife biologist in Jasper. "Where we have birds, we have birds."