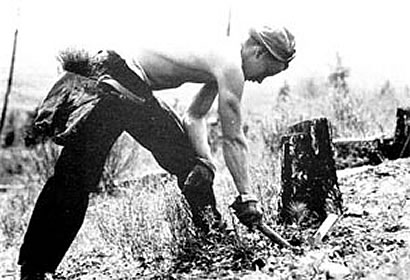 Bastrop State Park will host 100 or more former Civilian Conservation Corps members who helped build the foundation of the Texas State Park system back in the 1930s and 1940s. The March 28-29 event commemorates the 75th anniversary of the CCC, started by Franklin D. Roosevelt's administration in 1933 to address joblessness during the Great Depression years.
Most of the young men whose skilled hands worked on soil conservation and forestry projects, and helped build the structures that form the backbone of such outstanding state parks as Caddo Lake, Garner and Indian Lodge have passed on as the 75th anniversary approaches. Those CCC workers who are still alive today are in their 80s and 90s.
Registration begins at 1 p.m. Friday, March 28, in the Bastrop Refectory. The solid rock-and-timber structure is just one of several hallmark CCC-constructed buildings that helps make Bastrop State Park one of only six CCC-built state parks in the nation that have been designated a National Historic Landmark.
The Bastrop celebration will feature a recording of CCCers' oral histories, an antique tool demonstration of how CCC workers shaped rock and timber with hand tools, and skyline rigging demonstrations by members of the American Youthworks Environmental Corps, according to event organizer Janelle Taylor of the Texas Parks and Wildlife Department. There will be a swearing in of American Youthworks workers during the Friday night dinner program.
A group photo of the CCC veterans has been scheduled to be taken at 4:30 p.m. Saturday. That night's dinner will feature an appearance by actor Michael Harkin, who will portray President Roosevelt and deliver an FDR speech. Harkin will deliver an FDR speech.
TPWD and the Texas Wildlife Foundation are sponsoring the CCC celebration with assistance from a number of other organizations, including the U.S. Forest Service, Austin and Dallas Parks and Recreational departments and the National Park Service. TPWD currently operates 30 CCC-built state parks. All 30 parks will have displays set up and a new traveling exhibit of CCC architecture will be featured at the two-day event.
For more information about the 75th anniversary celebration, contact Janelle Taylor in Austin at (512) 389-4665.