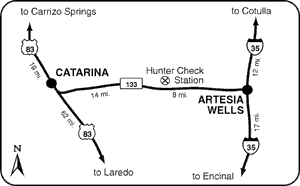 A massive wildfire that torched 95 percent of the 15,200-acre Chaparral Wildlife Management Area spared much of the wildlife on the state's premier public hunting site, according to initial findings during aerial surveys by Texas Parks and Wildlife Department biologists.
Biologists flew the area on Thursday, March 20, aboard TPWD's law enforcement helicopter counting deer and other animals and will compare those findings with recent annual aerial survey results, which should provide an estimate of wildlife loss from the fire.
"I am amazed how adaptive wildlife can be during a natural disaster; we found very few carcasses and have observed a lot of live animals — horned lizards, whitetail deer, javelina and quail," said David Synatzske, Chaparral WMA manager. "We have between 20 and 25 wildlife biologists and technicians on the site assessing damage and fixing fences and they are not finding dead animals. We discovered about 30 dead animals in one location, but have not found concentrations elsewhere. I drove the entire 30-mile perimeter fence line and found only two carcasses. Considering 95 percent of the area burned, that's incredible."
Synatzske said the fire, which started Friday, March 14, and was extinguished the following Monday, consumed about 50,000 acres in Dimmit and LaSalle counties, including portions of some of the state's most celebrated trophy whitetail hunting ranches. Yet, the blaze left some pockets untouched throughout the Chaparral WMA and he believes those areas likely provided refuge for wildlife.
As far as infrastructure, Synatzske said their research building and some trailers were destroyed and they will have to replace the game proof fencing around the perimeter. That's 30 miles of fence, which he said is going to be their biggest expense. The area also has 23 miles of PVC pipe feeding watering stations and irrigating pastures and have begun work repairing those water supply lines, too.
"While we hate seeing this type of devastation, we are thankful there were no injuries and that wildlife loss was not as bad as might be expected with a fire of this magnitude," said Mike Berger, TPWD wildlife director.
"Obviously, we are concerned about the short term impacts at the Chap from this wildfire, and we should be," noted Carter Smith, TPWD executive director. "But, the bigger story I think is whether these sorts of intense wildfires will be a growing pattern throughout South Texas."
Smith recalled that fire used to be a major part of the South Texas landscape, when it was more of a savannah like system. Now, because of the longtime build-up of brush and exotic grasses, such as buffel grass and guinea grass, as well as changes in land use practices, he believes there will be a heightened frequency and intensity of wildfires in the future.
"The tremendous amount of brush that we see now in South Texas was not historically present there, but has built up over time as a result of overgrazing, changing land use patterns, and suppression of fire," Smith explained. "The exotic grasses that are now a major part of the understory are very flammable, and candidly, not adversely impacted by fire."
Photos from the Chaparral WMA Fire
Research into how this ecosystem recovers from a large scale fire will begin immediately on the Chaparral WMA, according to Synatzske, who noted the area has now become a 15,000-acre research laboratory. "Our folks are identifying research sites and projects," he said. We're already seeing signs of green-up, so the process has begun."
"It should be interesting to see how the Chap responds, as well as what happens in the future on the wildfire front," Smith summed up. "That is going to impact the ecology and landscape of South Texas."