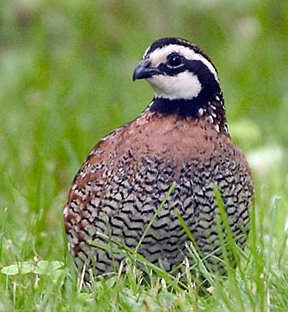 The relative merits of predator control and habitat development as bobwhite quail management practices have long been debated. A recent study in North Carolina sheds some light on this contentious issue.
The study took place during 1997–1999 on the coastal plain. This region consists of about 40% farmland devoted to soybeans, corn, cotton, wheat, and tobacco. The researchers selected 3 areas. In each area, they selected 4 farms. One farm served as the experimental control (no management), one received only predator control, one received only field border development, and one received both predator control and field border development.
Field borders were 3–6 yards wide. They were allowed to revert to wild vegetation consisting of grasses, forbs, and shrubs. The field borders made up 9–13% of tilled land.
Intense predator trapping took place during February–May in an effort to reduce predator abundance during the early nesting season. Predators included red foxes, gray foxes, raccoons, and opossums.
Summer abundance was gauged by the average number of males whistling "bobwhite" at listening stops. This index ranged between 1.5 and 2.1 males/stop and was, for all intents and purposes, indicative of little or no response to either predator control or field borders.
The researchers used morning covey calls to index the abundance of bobwhite coveys in early autumn. Predator control had no effect in comparison with the experimental control. Field borders added about 1 covey to the index, and field borders plus predator control added 2 coveys in comparison with the experimental control. Abundance of bobwhites on sites with field borders was 81% of that on sites with field borders and predator control.
"Field borders resulted in increased bobwhite abundance on farms," the authors concluded, "and therefore including field borders as a management option in regional recovery plans is valid. However, enhancing bobwhite populations beyond the levels found in this study likely will result only from habitat improvements across the farmed landscape, such as thinning and prescribed burning of forests to promote suitable year-round habitat for bobwhites. Reduction of … nest predators increased bobwhite abundance on farms with field borders, but population improvements were not sufficient to warrant the costs of predator trapping."