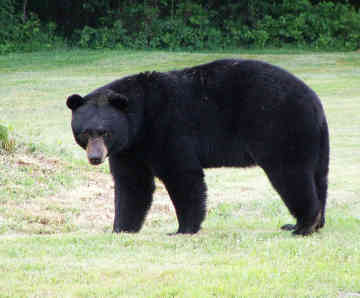 In the dim light before dawn, it's hard to tell what that dark shape is under the feeder 100 yards from your hunting blind. It's probably a feral hog stealing corn you bought for deer to supplement native forage. But make a positive identification before you pull the trigger; that hog-like shape could be a black bear.
Black bears were almost gone in Texas by the end of World War II because of unregulated hunting and habitat loss. However, a small resident and reproducing black bear population now exists in Texas and it is slowly expanding its range.
To manage the return of bears in the forests of eastern Texas, a coalition of conservation partners called the East Texas Black Bear Task Force has created the East Texas Black Bear Conservation and Management Plan. The task force is working to pave the way for black bear restoration in its historic range in eastern Texas through education, research and habitat management.
Bears have been making a slow and natural return to Texas since 1984, when a black bear was observed in Big Bend National Park for the first time in nearly 50 years. A large portion of today's bear population resides in the vast, arid desert and mountain country of the Trans Pecos Region in western Texas.
A few wild and free-roaming individual bears have been observed in south Texas, the western edge of the hill country, the northwestern panhandle and the forests of deep east Texas in recent years. They are considered to be primarily younger males moving hundreds of miles alone from their birth places of western Texas, northern Mexico or the bordering states of New Mexico, Oklahoma, Arkansas and Louisiana where black bears are more common.
Black bears are protected in Texas and are on the state threatened species list. Only in far eastern Texas do black bears get additional protection through listing as a threatened subspecies under the federal Endangered Species Act. This listing is associated with the black bear population in adjacent Louisiana (Ursus americanus luteolus). Bear hunting of any kind has been prohibited statewide in Texas since 1983.
The forests of eastern Texas are similar to other occupied black bear habitats in adjacent states. East Texas contains approximately 12 million acres of forested private and public land, including four national forests and the Big Thicket National Preserve. This region is considered to be one of the next places in Texas for the continued slow, natural return of black bears.
The Texas Parks and Wildlife Department has documented several reliable bear sightings in recent years in eastern Texas. Some of the most recent sightings have been verified by photos of bears taken by motion-sensitive cameras installed at deer feeders. Studies are in progress with researchers at Stephen F. Austin State University to better determine the distribution and occurrence of black bears in eastern Texas. This research involves the collection of hair samples for DNA analysis and the assessment of suitable forested habitats most likely to support bears.
The East Texas Black Bear Conservation and Management Plan adopted by TPWD in 2005 uses a partnership approach to facilitate the recovery of black bears in eastern Texas through cooperative efforts. One misconception about this plan was an early suggestion that TPWD would stock bears. This has never occurred and department biologists say it will not happen in the future unless there is solid public and political support for it. And, stocking may be unnecessary as bears continue to move slowly and naturally into the forests of eastern Texas from adjoining states where there are growing, expanding or stable black bear populations.
Bears are still rare in Texas and very few Texans have ever seen one here. Black bears are also normally shy and not aggressive to humans. This combination of factors makes it unlikely that you or someone you know will encounter one.
Even so, never approach a bear. If you do happen to encounter a black bear at close range in the wilds of Texas, it is advisable to talk in a calm manner while backing away slowly. Do not make direct eye contact and do not run. If a bear approaches you, stand your ground and raise your arms, backpack or jacket to appear larger. If the bear continues to approach, yell at it to scare it off. If a bear is visiting your deer stand or campsite, scare it with rocks, a slingshot or an air horn.
Hunters need to know their target and not mistake a bear for a feral hog or javelina. It is a violation of law to kill a black bear in Texas.
Public opinion surveys of residents in several Texas counties show general support for the return of black bears, while also indicating a need for more easily available information about bears.
Anyone can receive the recently created brochure "Bear Safety in Mind" from TPWD by calling one of the following regional offices nearest you: West Texas/Alpine — (432) 837-2051, Central Texas/Kerrville — (830) 896-2500, East Texas/Tyler — (903) 566-1626, North Texas/Canyon — (806) 655-3782), or South Texas/Pleasanton — (830) 569-8700.
The brochure and other information about black bears are also available on the TPWD Web site.