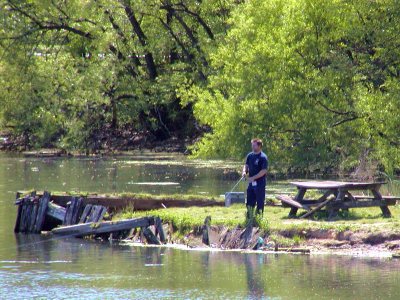 In Texas, fishing and warmer weather go together like chips and salsa. The Texas Parks and Wildlife Department wants those already "hooked" on fishing and newcomers to the sport to keep in mind that Texas state park waters offer ideal and economical spots for pursuing the family-friendly sport.
This year marks the fifth year of the Free Fishing in State Parks program that waives fishing license and stamp requirements within more than 50 Texas state parks. To capitalize on the program, which has been extended through Aug. 31, 2008, a dozen state parks are hosting "Free Fishing in State Parks" events where participants learn fishing skills, angling rules and regulations, have a chance to hook a fish and perhaps win door prizes such as rods and reels.
"Allowing free fishing in our state parks serves the dual purpose of reaching out to people who are not traditional fishing license holders by removing barriers to the sport and providing another incentive to visit a state park," said state parks promotions coordinator Bryan Frazier.
"We're getting good feedback from the parks and participants that this has become a popular program and something park visitors truly appreciate because it encourages a family activity like fishing," Frazier said. "We're happy to offer the opportunity that goes to the mission of state parks and our agency to connect people to outdoor activities, such as fishing, that brings families together."
Statistics gathered last year by TPWD show that 44 Free Fishing in State Parks events reached more than 1,500 adults and youth. Of that number, 28 percent of the youngsters surveyed had never fished before and 43 percent of the adults noted they had never been to the host park before. TPWD hopes that will translate into future fishing licenses and equipment sales.
Thanks to various sponsors such as Gander Mountain, fishing event participants walk away not only with newly acquired fishing skills, such as learning how to tie and bait a hook, but also with freshwater and saltwater fishing guides, water bottles, lures, fishing photo magnets, visors, fishing rods and other giveaways.
Choke Canyon State Park fishing event coordinator Darwin Klontz tallied 34 kids and 21 adults at the park's March "Reel Family Fishing Fun" event that he publicized locally through promotional flyers and a radio public service announcement. Three similar events are scheduled at Choke Canyon for April 19, May 31 and June 12.
During Choke Canyon's Free Fishing events, before a line ever hits the water, participants visit six stations designed to educate them on such things as fishing etiquette, fish habitat, safe-casting techniques, fishing equipment, lures and baits, and state fishing rules and regulations, Klontz explained. Participants can also bring their own fishing equipment or borrow the park's loaner rods and reels as long as the supply lasts.
"It seemed to really spark an interest in a number of people, both youngsters and parents," Klontz said. "We hope it'll be a real motivator to get more people out to fish."
The license-free angling applies only to fishing inside a state park from the bank, a pier or from a boat if done in a body of water totally contained within the boundaries of a state park, such as Huntsville State Park's Lake Raven. State parks along the coast also participate to encourage fishing from the beach and wade-fishing. State park entry fees, however, still apply. All state fishing regulations, except the license and stamp requirements, remain in effect.
In addition to free fishing at parks across the state, youth fishing clinics, fishing derbies and other family-oriented fishing events are on tap this spring and summer at dozens of state parks across Texas.
This year, a number of fishing event coordinators have been contracted to organize and run multiple fishing events. Children participating in this year's Free Fishing in State Parks events will receive free "Family Fishing Packs" containing a "how-to" informational booklet, a "Fishing is Fun" book, a photo holder refrigerator magnet and a laminated freshwater and saltwater fish identification card.
In addition to Choke Canyon, fishing event coordinators have scheduled Free Fishing events this year at the following state parks: Bastrop, Buescher, Blanco, Bonham, Eisenhower, Galveston Island, Huntsville, McKinney Falls, Palmetto, Ray Roberts Lake and Tyler.
A complete list of the coastal and inland state parks offering free fishing opportunities and upcoming Free Fishing in State Parks events can be found on the TPWD Web site.