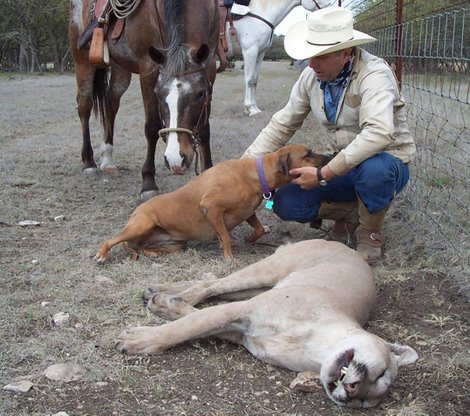 We've all heard the stories about folks seeing mountain lions, and sometimes we even hear about it in the news, but sometimes seeing is believeing. By their nature, mountain lions are extremely secretive and you pretty much have to stumble into one to be lucky enough to see it.
Such was the case April 12 on the Kramer Ranch in western Kerr County, Texas. A routine fence-line ride turned up something out-of-the-ordinary as Jim and Sharon Capeheart noticed something snared in their fence. From a distance, the tan creature appeared to be a deer hung up in a coyote snare, but as they got closer, they realized that it was actually a mountain lion. Dismounting from horseback, the couple approached the cat to inspect with their dogs.
"One horse, the gray, would have nothing to do with the cat," Sharon said, but several others "nudged and checked out" the curious thing with their muzzles.

In retrospect, she recalled the horses having "acted strangely in this area" most probably due to scent left behind from the mountain lion.
The land owner generally rides the area every day, she said, checking snares, signs, and fences for holes. Having had coyote problems and a decline in whitetail fawns, the Capehearts have enlisted in a co-op program through the United States Department of Agriculture and Texas A&M of Wildlife Damage Management Service.
Although I'm sure that program is intended to target coyotes, you just never know what type of predator you're going to catch with a snare!