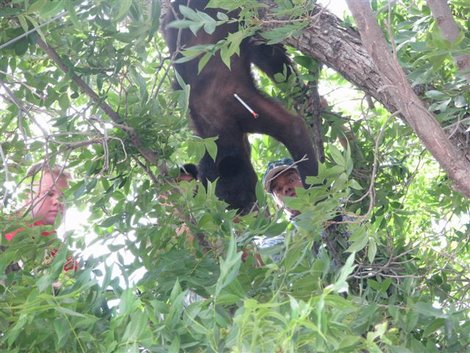 A wild black bear was captured alive in a south Del Rio, Texas, neighborhood Tuesday. The Del Rio police, city animal control officers and state wildlife officials converged on the 300 block of Plaza Avenue in the city's San Felipe neighborhood about 10:30 a.m. Tuesday.
The black bear, which had been sighted in the area since Monday afternoon, climbed a pecan tree on a vacant lot adjacent to Don's Funeral Chapels, 307 Plaza Ave. Police armed with shotguns and rifles cleared a two-block area around the pecan tree into which the bear had climbed, ordering persons living in the neighborhood to stay inside their homes.
Texas Parks and Wildlife Department Wildlife Biologist Sylvestre Sorola, an experienced outdoorsman and veteran hunter, shot the bear with a tranquilizer dart shortly after noon Tuesday. Instead of leaving the tree, the darted bear scrambled about 10 feet higher,
forcing wildlife officials and Del Rio firefighters to use the fire department's ladder truck to haul the unconscious bruin to the ground.