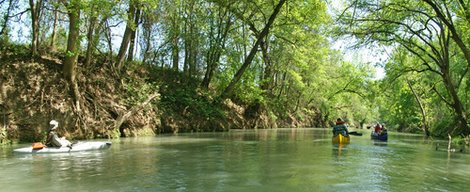 The Texas Parks and Wildlife Department's (TPWD) first lake-based trail for the Texas Paddling Trails programs is set to open on August 14 at Richard Simpson Park on Lake Arlington. The 10.9-mile Lake Arlington Paddling Trail is also TPWD's first in the Dallas-Fort Worth Metroplex, and is intended to allow paddlers to travel along the lake shore to enjoy a taste of nature in the middle of an urban center.
The trail was made possible through a partnership between TPWD and local parks and recreation departments with the cities of Arlington and Fort Worth. The Texas Paddling Trails program develops public inland and coastal paddling trails throughout the state with maps, signage and other information. The trails provide well-mapped accessible day trips in a variety of settings for people at all levels of paddling experience.
Not counting the Arlington trail, there are currently seven coastal paddling trails and six inland paddling trails, with several communities in the process of applying for participation. Complete information is online at the Texas Padding Trail website.