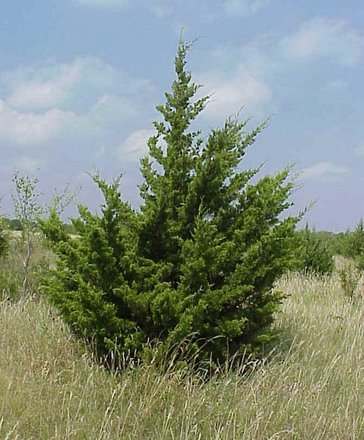 New research suggests that juniper, mesquite and other woody brush that have overrun grasslands on the Edwards Plateau of west-central Texas aren't the water hogs that they were thought to be. Further, bulldozing this brush may not be wise, because it would remove plants that take in lots of carbon from the atmosphere, making them a potential ally in efforts to counter global warming.
These are the findings of Dr. Jim Heilman, a Texas AgriLife Research scientist and professor of environmental physics in the Department of Soil and Crop Sciences at Texas A&M University.
"People have this idea that trees are suction pumps, that if you have all of this landscape and big trees, much more water is used," he said. "Not true. What drives water use is the energy supplied from the sun and the atmosphere."
Heilman's data show only "small increases" in the amount of water used due to brush encroachment. "It's not because the trees are extracting large amounts of water that the grasses can't reach, but because trees trap and absorb more sunlight than grasses," he said.
Juniper is considered a "water thief" because of the belief that its deep roots are tapping into large amounts of water stored in the limestone bedrock.
However, Heilman's study of a live oak-juniper woodland area found the live oak used more water than the juniper.
"Juniper roots are actually shallower than oak roots, and the internal plumbing of juniper greatly restricts the amount of water that can be taken up," Heilman said.
"We found no evidence that deep roots were extracting significant amounts of water," he said. "Limestone bedrock in the Edwards Plateau is not capable of storing large amounts of water in the deeper zones for roots to tap into."
Heilman's research project is being conducted on the Freeman Ranch near San Marcos with funding provided by the National Institute for Climatic Change Research-U.S. Department of Energy.
Data on the ranch have been collected using a network of meteorological towers, recording measurements such as carbon dioxide exchange, evaporation, and wind speed, Heilman said. Sensors are mounted on towers at three locations – one in a grassland, one in a grassland in the process of being overtaken by juniper and mesquite, and the other in a dense forest of juniper and oak. He said the forest represents the most extreme case of woody encroachment where water use should be the highest.
"The site being overtaken by juniper and mesquite is representative of sites that typically are subject to brush removal," Heilman said.
Not disputing that brush encroachment is "a world problem," Heilman's research has him questioning the recommendation of brush removal in some instances. By removing woody species, it reduces the capability of capturing carbon dioxide from the atmosphere, he said.
"The juniper and other woody species are sequestering a lot of carbon," he said. "We've seen up to a six-fold increase with the encroachment of juniper. So, if we remove brush, we might have a marginal savings of water, but we're losing a heck of a lot of carbon. If we get into carbon trading markets, that carbon could be very valuable."
Carbon sequestration is a fairly recent option that would create traded markets, attempting to reduce carbon emissions due to concerns with global warming.
Overall, Heilman said, the idea of brush removal to save water is a case of where "policy gets ahead of science."
"It's what we think we know that just ain't so that gets us into trouble," Heilman said, quoting Mark Twain. "It's going to take more than just our study to get the definitive answer."
Heilman is collaborating with Drs. Susan Schwinning of Texas State University; Marcy Litvak, University of New Mexico; Kevin McInnes, Texas A&M University; Georgianne Moore, Texas A&M University; and Keith Owens, Oklahoma State University.
Heilman's work is currently in review with the Journal of Hydrology. The results were part of an invited paper presentation at the American Geophysical Union Joint Assembly in Fort Lauderdale, Flourida, in May.