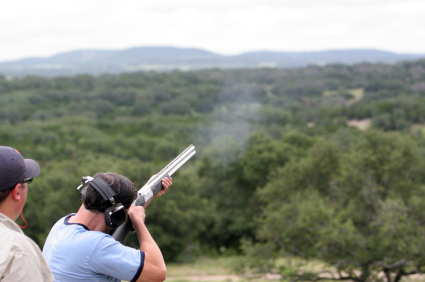 What a sport shooting can be! Steve Hall fondly remembers the look on the faces of visitors to the clay shooting activities and the annual Texas Parks and Wildlife Expo in Austin.
"You see smiles on the faces of both kids and adults," said Hall, Texas Parks and Wildlife education director. "It's just fun breaking clay birds."
The Texas Parks and Wildlife Department is helping to organize various shooting-sports associations, industries and ranges to bring more opportunities for youth to be introduced to the various shooting sports.
The result of the organizational effort is called the Texas Youth Shooting Sports Committee, an association formed in early 2008 with a mission to increase awareness of shooting sports and to encourage youth to participate in them. Starting with the shotgun sports, the committee is offering a series of "Youth Super Shoots" to give young Texans a chance to compete and show-off their skills or simply to shoot for the first time.
"There has been a flat or even a declining trend in various aspects of outdoor and shooting-sports participation by youth. We want to reverse that trend," said committee member Russ Arnold, who is also the state director of skeet and sporting clays for the state's Scholastic Clay Target Program. "And most importantly, kids who participate in shooting sports with responsible adults make better kids. And better kids make better adults."
The second invitational Texas Youth Super Shoot & Family Fun Festival will be held at American Shooting Center in Houston Sept. 6. Shooters of all experience levels between the ages of 8 and 21 are welcome to attend the event to compete or learn about the joys of shotgun shooting for the first time. Their family members also are encouraged to attend and enjoy in various outdoor events, including archery, fly fishing and the shooting events.
"Our facility and staff are extremely pleased to bring this event to the Houston area," said Ed Arrighi, managing partner of the American Shooting Centers. "As the largest public shooting facility in Texas, in the fourth largest city in America, we feel an obligation and also are honored to provide more opportunities for our local youth to experience the outdoors and specifically, the shooting sports."
The entry fee is $75 and competitors will get to shoot 150 clay targets. Any youth who brings a new shooter, one who has never participated in an established shooting organization, will get a two-for-one special price. Family members and non-competitors will get to participate in the fun events and shoot at much reduced rates.
Mandatory safety meetings will be held throughout the morning, and instructors will be on-hand to teach safety and technique to beginning shooters. A limited number of shotgun rentals and ammunition will be available on site.
Entries to this event are limited to the first 250 shooters who sign up. Online registration is available here. Registration will be open form 8:00 a.m. to Noon the day of the event; shooting begins at 9:00 a.m.
Texas Parks and Wildlife Department is partnering with existing programs like the Scholastic Clay Target Program and the Agriculture Science and Outdoor Education curricula, to promote more opportunities for school-aged children to showcase their shooting skills and earn state and national recognition in addition to learning safe firearms handling.
Hall said that outdoors shooting sports instill positive character traits in children such as responsibility and commitment.
Clay shooting "is a lifelong skill that teaches communication and confidence," he said. "It's a skill they can take with them for the rest of their lives for enjoyment or for competition, and it opens the doors to hunting and other outdoor shooting sports."
For more information or to register for the September 6 Texas Youth Super Shoot & Family Fun Festival in Houston, contact American Shooting Centers at (281) 556-8199 or lynn@amshootcenters.com.
Upcoming youth shoots include:
October 11 — Hill Country Shooting Sports Center, Kerrville
November 15 — Brazos County 4-H Range; Snook