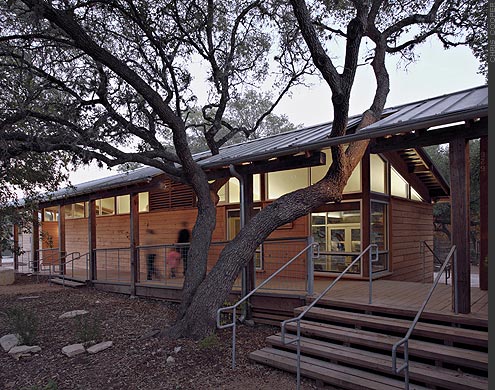 The Cibolo Nature Center is located on what was once Herff Ranch, established in 1852 by pioneer surgeon Dr. Ferdinand Herff near Boerne, Texas. Much of the original 10,000 acre ranch has been developed, but the Friends of the Cibolo Wilderness have plans to purchase the original ranch homestead on acreage adjacent to the Cibolo Nature Center.
The weathered, century-old building that's prominent on the grounds was donated and moved to their center. Their talented volunteers renovated the structure and it served as their office and visitor center for more than 10 years. In fact, they still use it as a visitor center and kids are welcome to head on inside to learn about nature through hands-on displays.
The Lende Learning Center represents a new era for the Cibolo Nature Center. Generous donations and sweat equity made this building and the activities it hosts a reality in 2004. Designed by award-winning Lake/Flato Architects, the structure combines elements of nature with state-of-the-art technology.
The Cibolo Nature Center urged local government to restore disappearing marshland and create nature trails in 100 acres of the existing Boerne City Park. The city's cooperation volunteer enthusiasm brought a rebirth to the land and a renaissance of public concern for conservation of Boerne's natural resources.