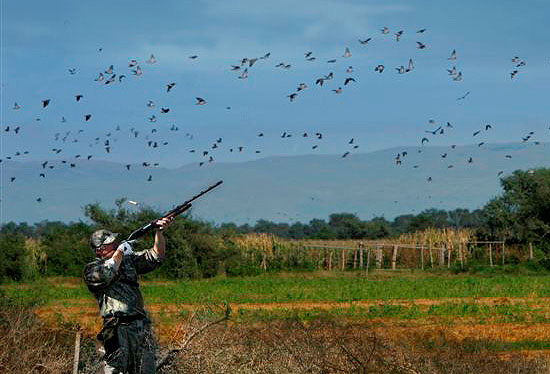 Many Americans don't know it, but North American wildlife, woods, and waters have been managed, conserved, and protected for many decades primarily because hunters have pushed for it–and helped pay for it. In 1938, Congress created the Pittman-Robertson/Wildlife Restoration federal aid program. In 1950, federal lawmakers followed up with the Dingell-Johnson/Sport Fish Restoration program. Since then, federal taxes on sporting goods created by these laws have provided $9.5 billion for state-based wildlife conservation. This highly successful conservation model has made possible the restoration and management of deer, turkey, game fish and a host of other game animals, many of which have come back from severe depletion around 1900 to record abundance today. By focusing on the habitat that sustains all wildlife, hunter-driven conservation has also benefited threatened and endangered species and nongame animals. It is only recently that non-hunters have come to appreciate the economic impact of hunting.
The economic impact of hunting is big. Texas hunters are a major economic force, with an annual economic impact of more than $4.6 billion. Sportsmen support more than twice the jobs in Texas than Dell Computer Corp., Lockheed Martin, Electronic Data Systems and Dow Chemical Co. combined (106,000 jobs vs. 49,000). In 2006, there were 1.1 million hunters (residents and nonresidents), hunting a total of 14 million days in Texas. Of the total hunters in Texas, 978,697 were state residents and 122,589 were nonresidents.
Texas has always tried to provide hunting opportunity and experiences. Of course, there are many hunting activities that sportsmen can become involved with. Dove hunting is one of the best ways to recruit new hunters and bring lapsed and occasional hunters back into the fold. Since 1996, acres of private lands leased for public dove hunting by the State of Texas have increased by more than 200% (20,000 acres in 1996 to more than 60,000 in 2006). In addition, dove hunter numbers have increased by 70,000 since 1996. (In the years since the public dove hunting program came into play, the number of dove hunters in Texas has increased from 322,000 to 392,000.).
Texas Parks & Wildlife Department (TPWD) has greatly expanded the number and type of high-quality guided hunts offered in the Big Time Texas Hunt drawings to include the Texas Grand Slam, Texas Exotic Safari, Texas Whitetail Bonanza, Texas Waterfowl Adventure, Texas Big Time Bird Hunt, Texas Premium Buck Hunt, and the Texas Gator Hunt. These funds are used to cover the program administrative costs and support additional public hunting, wildlife conservation, and wildlife research. TPWD offers nearly 6,000 hunting positions through special drawings for public hunts on state parks, WMAs and private leased lands. The $48 Annual Public Hunting Permit allows access to about one million acres of public hunting land across the state.