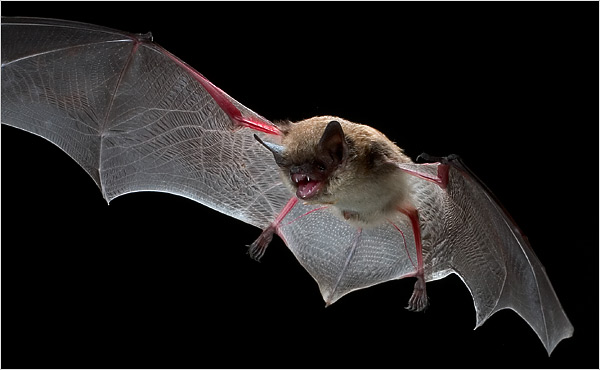 Scientist and doctors are aware of the serious potential threat posed by the fungal disease known as white nose syndrome to bat populations. Many are coordinating with partner groups like Bat Conservation International and others and considering actions to protect bats across the United States. Most agencies are attempting to prevent people from transporting fungus spores which could infect bats. White-nose syndrome has not yet been detected in many states, so everyone should consider preventive measures to protect bat colonies before problems arise. The syndrome has killed hundreds of thousands of bats in many U.S. states and can kill up to 95 percent of bats at a single site once infected.
Texas, including the cave-rich Edwards Plateau region in the central Hill Country, is one of North America's most important regions for bats. Texas has more public bat-viewing locations than any other state. That includes the largest known bat colony in the world, Bracken Cave near San Antonio. The Lone Star state also boasts the US' most famous urban bat colony, the Congress Avenue Bridge in Austin. So although white nosed syndrome has not been documented in Texas bats, below are some key points about bats and why it is important that this bat illness not invade local populations.
Bats are highly beneficial in several ways. Several bat species are important pollinators for native wild plants and for some cultivated crops. Bats also control insect pests and support nature tourism that benefits local economies across Texas. Recent research shows most Texas bat species eat large amounts of agricultural insect pests, saving farmers millions of dollars.
In a 2006 article in the scientific journal Frontiers in Ecology and the Environment, university researchers reported bats provided almost $1.7 million in avoided yield loss and avoided pesticide costs for cotton grown in the eight-county study region around Uvalde. Scientists say bat insect control benefits farmers up into the Midwest and Canada, and that this shows the need to protect large bat colonies and promote public education and bat ecotourism.
Bats are worth millions of dollars in nature tourism to Texas communities. According to Bat Conservation International, an estimated more than 100,000 people visit the Congress Avenue Bridge in Austin each year to witness the summer season evening bat flights, generating $10 million dollars in tourism revenue annually. More information about white-nose syndrome and bats is on the Bat Conservation International.