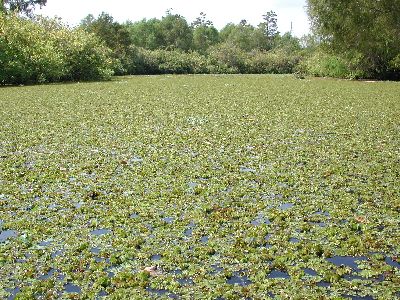 During the first in week of June, in partnership with the Cypress Valley Navigation District and the Caddo Lake Institute, the Inland Fisheries Division of Texas Parks and Wildlife Department (TPWD) launched an offensive against giant salvinia on Caddo Lake. "We are at a tipping point with giant salvinia coverage on Caddo Lake," said Craig Bonds, TPWD's regional director for inland fisheries, in a department news release. "If we don't get on it heavily, we could lose this battle and experience increased levels of giant salvinia, to the point where we won't be able to control it. We will never eradicate it. This is going to be an on-going fight." The battle against giant salvinia is being fought mainly by the herbicide boats and a mechanical harvester that gobbles up the plant from the surface of the water and carries it to shore for disposal.
Salvinia-eating weevils are also in use on several lakes, but results are slow. TPWD and Cypress Valley Navigation District crews will be on the lake applying Environmental Protection Agency (EPA)-approved herbicides until about June 12. Each of the five spray boats operating can cover about 40 acres per day. While efforts to combat giant salvinia are expensive–$64,000 for herbicides alone for the current operation–experts say the cost of doing nothing would be greater.
"If not controlled, giant salvinia can and will take over the entire lake," said Howard Elder, TPWD's aquatic vegetation biologist. "It will block out all light from the water beneath, displacing native fish and plant species, negatively impacting the water quality and displacing waterfowl and other wildlife. Should giant salvinia progress to the point where access is affected, all recreation will cease. You won't be able to launch a boat or move a boat through dense salvinia mats. It will cost local communities and reservoir-based businesses significant lost revenue."
More information about giant salvinia is on the TPWD web site. Tips for controlling salvinia and other nuisance species are on the Texas Invasives project Web site.