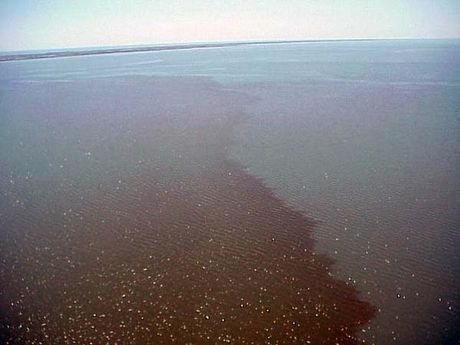 Texas Parks and Wildlife Department (TPWD) personnel are being pulled in to assist with fish kill assessments this week, as TPWD continues to monitor and assess red tide on the lower and central Texas coast. The current red tide event began about 10 days ago, originating on and affecting primarily the southern coast but extending up toward Mustang Island State Park. It is possible that a cool front late last week reduced the current red tide on the central coast, and a similar front later this week could do likewise.
However, there have been new reports of dead fish on the southern coast, including the first confirmed report of red tide in the Laguna Madre near Mansfield Pass. The current bloom has been relatively mild compared with some larger events in past years, but it has caused dead fish to wash onto beaches and produced a mild to moderate airborne aerosol that can cause human respiratory distress. Red tide has no negative impact on migrating waterfowl. During a red tide bloom, TPWD posts daily Web updates each weekday that allow beach visitors and news media to track the latest developments.
The October 19 update said biologists are investigating reports of dead fish at Boca Chica and along South Padre Island up to Port Mansfield. TPWD received reports over the weekend of mild aerosols around the Packery Channel jetties and dead fish in a canal at Padre Isles Country Club, and biologists planned to visit the Packery Channel area Monday. Mustang Island State Park has been clearing dead fish off park beaches, although no new fish washed in over the weekend. Cell counts at Port Aransas were low Monday morning and no aerosols are being reported in the area. Another coastal overflight to assess the situation is tentatively set for later this week, weather permitting.