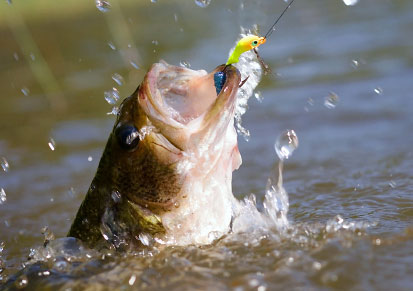 Dave Lefebre won the Toyota Texas Bass Classic that was held October 16-18 on Lake Conroe. And the bass angler did so in dramatic fashion. The Pennsylvania native caught his last largemouth bass of the day with only 15 minutes left on the lake, which was all he needed to edge ahead of the pack. Lefebre caught only four ounces more than second place Andy Montgomery.The bass fishing tournament successfully wrapped up Sunday evening with the crowning of the inaugural Professional Anglers Association (PAA) Tournament Series World Champion.
The unique event focused on conservation and featured a catch and release program that highlighted the efforts of Texas Parks and Wildlife Department (TPWD). Prior to the final day's weigh-in, tournament backers presented the TPWD with a $250,000 donation, to go towards youth fishing and outreach programs across Texas. Dozens of TPWD employees in various divisions were involved, from helping plan and promote the event to helping run outreach activities and otherwise assisting on site this past weekend. Chalk the Toyota Texas Bass Classic up as a hit.
Lefebre (46 lbs. 12 oz. caught) was the mark of consistency, holding the lead for all three days. However, he was met with stiff competition on the final day and saw his 5 lb. 8 oz. lead quickly evaporate. Second place Montgomery (46 lbs. 8 oz.), third place Todd Auten (46 lbs. 4 oz.) and fourth place Aaron Martens (45 lbs. 12 oz.) all finished within one pound of Lefebre. Lefebre caught his last bass of the day with only 15 minutes left on the lake. It was all he needed to separate himself from the rest of the pack.
"I'm trying to think of a new word to explain how I feel," said Lefebre. "One notch on the Boca-Grip scales is what separated me. I'd trade all that (missing out on FLW Angler of the Year and FLW Cup) for this."