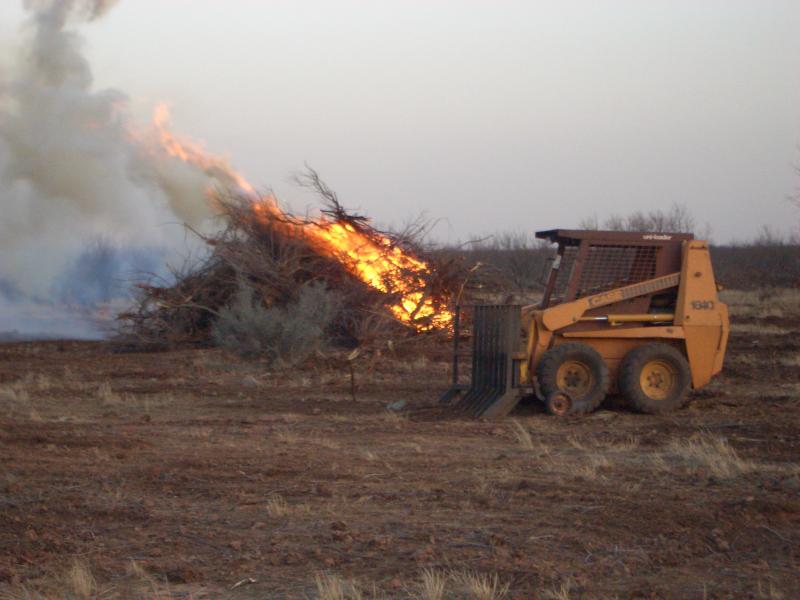 Habitat management is the keystone of successful wildlife management. This statement has never been more true in Central Texas, where brush control is critical for maintaining important natural processes and suitable habitat for endemic wildlife. On March 25th, directors from Pedernales, Gillespie County, Comal-Guadalupe, Kendall, Kerr County, and Bandera soil and water conservation districts (SWCDs) attended a tour of the Honey Creek State Natural Area.
The Watershed Study in Honey Creek State Natural Area was established in 1999 by the Natural Resources Conservation Service (NRCS) to evaluate the combined effects of using selective brush removal (Ashe Juniper) to increase water quantity while protecting water quality. Phillip Wright, Range Management Specialist, with NRCS led the tour. Tour participants were taken to four sites to view equipment used to gather data for the Watershed Study. At each site, information was presented on how the equipment works and the results it has produced from cedar removal. The tour wrapped up with a walk along Honey Creek to see the stream flow that the Brush Removal has created.
"In 2 years following the ashe juniper removal, spring flow in the watershed increased about 49,000 gallons per acre per year. In 2001, about 60% of the ashe juniper was removed."
The Watershed Study has six sampling instruments for gathering data including six tipping bucket rain gauges, two Bowen energy ratio stations, four stream flow gauges that measure surface runoff, three water quality sample sites, two remote weather stations, three evapotranspiration stations, and two wells that record groundwater level measurements to determine on site recharge.
Tuffy Wood, Program Supervisor with the Texas State Soil and Water Conservation Board's (TSSWCB) Water Supply Enhancement Program Office says "Phillip Wright and his associates are showing that brush control work performed in the right areas can help generate spring flows." The project partnership includes the following agencies: USDA-NRCS, U.S. Geological Survey, Texas Parks and Wildlife Department, Edwards Aquifer Authority, Guadalupe-Blanco River Authority, San Antonio River Authority, San Antonio Water System, Edwards Region Grazing Lands Conservation Initiative.
Wood goes on to say "The Water Supply Enhancement Office and the Comal-Guadalupe SWCD have several brush contracts in the Honey Creek area and with the research being performed by Watershed Studies in the Edwards Region, it shows that Selective Brush Removal can generate spring flow."
The Golden-cheeked Warbler is an endangered song bird that nests in the Honey Creek Natural Area. The watershed study team made sure not to disturb the Warbler's nesting sites by staying at least 300 meters away from the known nesting areas. This allowed the Conservation Practice of selective brush removal to be carried out while also improving habitat for the Warbler as well as other species of birds. Since the completion of selective brush removal, overall diversity and populations of all bird species has increased. Other Conservation Practices that will be implemented to improve habitat are prescribed burning and deferment from grazing to allow for re-vegetation of native plants.
For more information on the TSSWCB Water Supply Enhancement Program or other brush control projects please contact the office in San Angelo at (325) 481-0335 or visit their website.