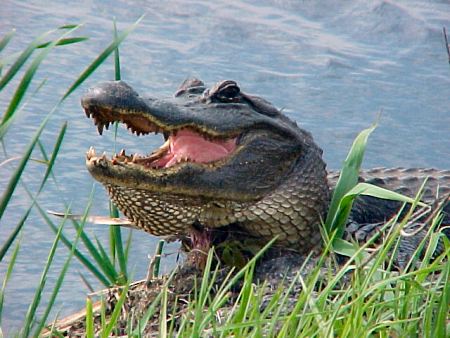 Texas may not seem like suitable alligator habitat to those that don't know much about our State, but Texas residents know that we have plenty of these large reptiles—over 250,000 to be exact. Alligators, not unlike other animals, can cause serious problems, especially because of their size, powerful jaws, and numerous teeth. Refugio County-based Game Warden Raul "Pinky" Gonzales found out the hard way. No wonder Texas has a well-regulated alligator hunting season in place for these prehistoric lizards.
Game Warden Gonzales is recovering this week from injuries suffered in a struggle with an 8-foot, 9-inch alligator. The incident began on Friday, April 2, when Gonzales responded to a call about an alligator on FM 136 just south of Woodsboro. He arrived to find the big 'gator in the middle of the road. Attempting to relocate the animal, the warden got on top of it and began to tape its mouth. Although he has dealt with alligators for more than two decades and has never been injured, this time was different. The alligator swung its head and struck Gonzales squarely in the face, causing a severe cut to his upper lip, breaking a tooth, loosening another, and damaging his eyeglasses.
Gonzales immediately tried to get away but the agitated reptile bit down on his left hand causing severe lacerations to his thumb and index finger. The warden pulled free and rolled away from the 'gator before shooting the alligator, which killed it. After moving the carcass off the road, Gonzales contacted Capt. Henry Baldermas via cell phone. He then drove approximately 1.5 miles to the captain's residence, where Baldermas transported him in his patrol unit to Citizens Medical Center in Victoria. The warden had surgery to repair ligaments and remove infectious material from the hand wound. He was released from the hospital Monday, but something tells me he won't forget the one alligator that got the better of him.