Habitat management really is THE key to quail management. Rainfall determines the yearly fluctuations in habitat conditions and ultimately quail numbers, but a quail population will always suffer if the necessary component's of their habitat is missing. One aspect of bobwhite quail habitat that is often overlooked are covey headquarters. Covey headquarters are clumps of dense shrubby or woody cover with a canopy at least three feet high and little vegetation at ground level.
Bobwhite quail need and use this type of patchy escape cover on a daily basis. They use headquarters to avoid hot summer sun and seek protection from predators and harsh weather. Without this habitat component, few quail will be present on a property. This habitat component should be placed next to early-successional vegetation such as managed wildlife friendly grasses and legumes and tilled soil in order to be most effective.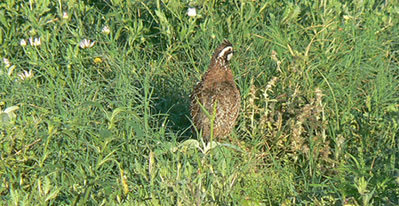 Covey headquarters can be created by planting shrubs, edge feathering, placing downed tree structures, or improving existing shrub thickets. Landowners should establish at least 1/10 to 1.0 acre of dense shrubby cover for every 5 to 50 acres adjacent to quail-friendly forage plants with adequate bare ground. The minimum size of a bobwhite quail covey headquarters should be about 1,500 square feet, and roundish or square-ish in shape. It takes three plots of this size to equal 1/10 of an acre. Optimum height is from 3 to 10 feet.
For landowners interested in optimal quail habitat management, the covey headquarters should be no more than 150 feet apart and adjacent to early successional grasses and legumes. This escape cover can also be near field borders, food plots or cropland. Make sure to kill any existing herbaceous vegetation before developing new covey headquarters. Removing this vegetation provides good growing conditions for annual food plants and shrubs.
To jump-start woody plant establishment, plant bare root, container-grown stock or establish from seed. Preferred headquarter shrub species include gray or roughleaf dogwood, elderberry, skunkbush sumac, American or Chickasaw plum, blackberry, or shrub lespedeza. Other good species include: hazelnut, elderberry, nannyberry, witch hazel and false indigo bush.
Plant a mix of shrub species to provide plant diversity. If whitetail deer damage is a concern, then it is recommended that shrub lespedeza, skunkbush sumac, false indigo bush, and blackberry be planted. Shrub lespedeza may be established from seed. Placing shrub protectors around plantings will help deter deer and rabbit damage. Landowners should evaluate their quail habitat and determine if additional covey headquarters are needed before increasing woody cover.