Interesting wildlife news this week includes a male mountain lion weighing 102 pounds was shot and killed in El Paso, Texas. The lion was spotted around the city and then entering the parking garage of a state office building at 401 E. Franklin, where Texas State Game Wardens have their offices, along with several other government agencies. Officials shot the mountain lion with a tranquilizer dart, but it jumped from the second floor of the garage back onto the street before the drugs took effect.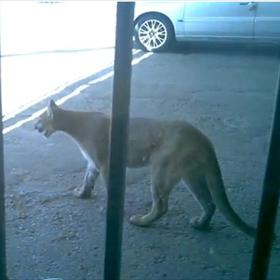 The mountain lion passed through a school yard and then ran to a car wash where officers evacuated several customers and lowered the business's security gate to trap the mountain lion. The lion was darted a second time, but immediately began to run again. The mountain lion took off and hit a fence, and was about to escape the perimeter fence, so officers shot and killed the mountain lion.
El Paso is situated near prime mountain lion habitat. The Rio Grande River is only about a mile from downtown El Paso and that the Franklin Mountains are close by. There have been infrequent sightings and reports of mountain lions within the city limits, and a TPWD game warden shot and killed a mountain lion in a west side neighborhood about 3 years ago. That area of El Paso backed up to a mountain range that provided habitat for mountain lions.