Granger Lake is well known by anglers looking for catfish and crappie, and duck and deer hunters know the Granger Wildlife Management Area offers great hunting, but the place has definitely gone to the birds as of late! Yes, there are whooping cranes at Granger Lake. At least six of these endangered birds have taken up residence at the lake since early December 2011. These birds normally make the 2,500 mile trek from northwest Canada to winter at Aransas National Wildlife Refuge, but not this year.
The six whooping cranes at Granger Lake are actually two families of cranes. The fact that these birds are hanging out around the lake this year are stirring up the curiosity of bird watchers across the state. About two months ago, reports started coming in to Granger Lake Manager, James Chambers, that a family of three whooping cranes, two adults and a juvenille, had been spotted nearby. Shortly after the initial whooping crane reports, another family of cranes found out about Granger Lake.
Texas Parks and Wildlife has a particular interest in the birds because they typically winter near Aransas, Texas. Why are these birds here? Biologist believe these birds have found what they are looking for, food. Whooping cranes eat clams, insects and even waste grain found in agricultural fields. The drought of 2010 has left Granger Lake at very low levels, exposing plenty of clams for the whoopers. In addition, many corn fields were simply mowed-over last year, leaving plenty of corn for the birds.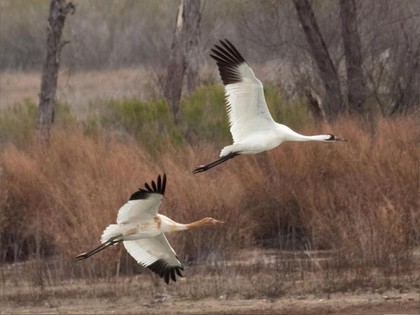 The Williamson Audubon Society said, "Tthe area has always been a great place to bird watch, but now that Whooping Cranes are in the area, the excitement has grown. They're so large. You can't miss them. If you go to Friendship Park here on Granger Lake and look around, eventually you'll see three of them at least. Maybe even all six."
Whooping cranes winter in Texas and typically begin their return trip to northwestern Canada in late March to early April. Will the whooping cranes at Granger Lake stay until then? Only time will tell, but they've been there for a while now. Unless the temperatures get really cold and force them further south, it looks like the whoopers will be getting a lot of attention.