The range of the black bear once blanketed the state of Texas. Though black bear numbers began declining over a century ago, those numbers are now on the rise according to Texas Parks and Wildlife Department (TPWD). As the saying goes, "where there is smoke, there is fire." Increased wildlife management by government officials and landowners as well as protection over the years have created a more hospitable climate for bears. If you judge by recent reported sightings, the black bear is making a significant comeback in Texas. However, public interest in an animal often has a way of fueling additional sightings, especially during poor visibility conditions.
This is true not only with bears, but many other elusive and intriguing animals, such as mountain lions or sharks. In other words, some of the bear reports in Texas could be false. But maintaining these bear sightings with confirmed kills and photos helps piece together the bear population in the Lone Star State.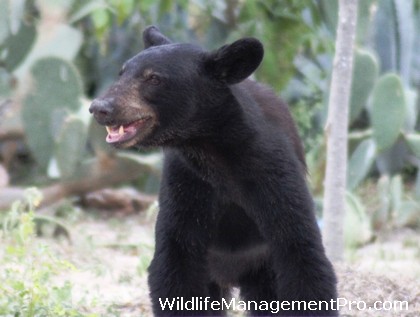 Black bear are showing up in many Texas counties, including those out the western edge of the Edward's Plateau (Texas Hill Country). TPWD keeps track of black bear sightings in Texas and maintains reports on each event. Black bear activity reported in Texas in 2012 to date can be found below.
Black Bear Sightings in Texas in 2012
Maverick County — Jan. 26 — Sighting
Starr County — July 30 — Relocated
Kimble County — Aug. 6 — Sighting
Menard County — Aug. 8 — Sighting
Schleicher County — Aug. 8 — Sighting
Sutton County Aug. 12 — Sighting
Webb County — Aug. 27 — Killed on road by vehicle
Uvalde County Aug. 31 — Sighting
Kinney County Sept. 25 — Sighting
Maverick County — Oct. 14 — Relocated
Val Verde County — Nov. 3 — Sighting
Edwards County — Nov. 5 — Sighting
Report Black Bear Sightings
Black bears are the smallest North American bear and usually weigh between 100 and 300 pound. While bears once were native to most of the state, breeding populations are still primarily found in the Trans-Pecos, primarily in the Big Bend region. However, it seems bears are moving around the state at an increasing rate. If you see a bear, please report it to TPWD by contacting Jonah Evans at 432-837-2051, extension 228.