If you've ever wanted to catch a rainbow trout this is your change. Texas Parks and Wildlife Department (TPWD) has already started trout stocking in Texas for 2012. This colorful, hard-fighting and tasty fish can be caught at a pond near you very soon. TPWD reports that ponds and streams at the Texas Freshwater Fisheries Center (TFFC) received their first stocking of rainbow trout this past Tuesday.
About 1,100 rainbow trout were stocked in total. Most were put into the TFFC casting pond and the pond next to the Conservation Center, but other streams and ponds received fish as well. Trout were also placed in the Hill Country Stream exhibit in the Visitor Center for viewing only.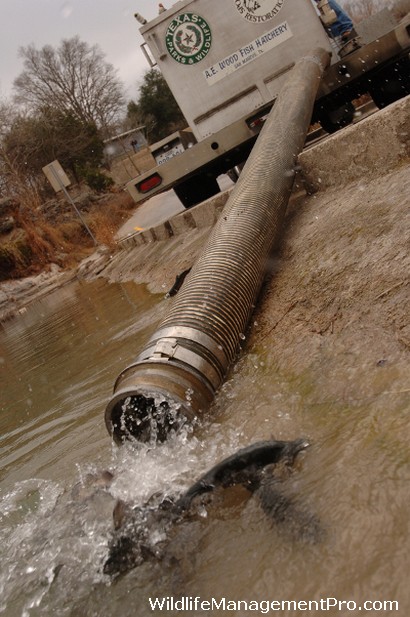 From now through March, TPWD will stock upwards of 250,000 hatchery-reared rainbow trout at more than 100 sites across the state of Texas. TPWD has been stocking rainbow trout in small urban lakes, state park lakes and popular river tailraces each winter since the 1970s, providing Texans a simple and economical opportunity to go fishing.
Catching these hungry fish can be easy, making the experience ideal for both novice anglers and kids. The fish will bite almost immediately after stocking and typically will take a variety of baits, from whole kernel canned corn or commercial soft bait to artificial flies and even small spinnerbaits.
For more information about the winter trout fishing program, including tips and the 2012-2013 trout stocking schedule listed by city or county, check out this trout stocking in Texas information.