Landowners interested in learning more about prescribed burning as a wildlife management tool or gaining experience with prescribed fire in the Central Texas area are invited to attend a workshop in the Bandera area. A private landowner would like to invite anyone who is interested in learning more about how to conduct of prescribed burn, to his ranch in Tarpley. Larry Stark of the Natural Resources Conservation Service (NRCS) will be assisting with the planning stages of the burn. The prescribed burning for wildlife management class is open to anyone of any experience level and a meal will be supplied afterwards.
If you do not live close by, the landowner will be providing his camp house to anyone wishing to overnight, all you need is a bedroll and personal items. Please contact any of the below individuals in advance if you will be staying overnight and/or staying for the meal.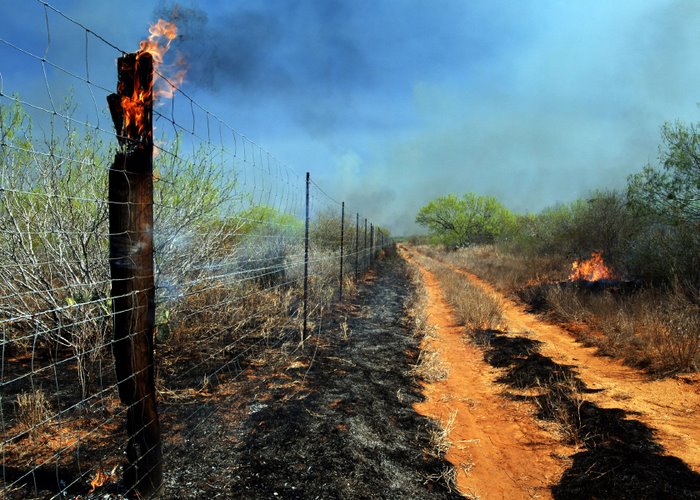 Prescribed Burning Gear:
If possible, please bring any fire suppression tools you may have. (i.e. ATV (with sprayer), backpack sprayer, blowers, etc.):
Clothing – Clothes should be made from natural fibers such as cotton or wool as these fibers do not combust readily. Commercial fire retardant clothing made from materials such as Nomex is very good, but not required. Synthetic fibers such as nylon and polyester will burn and/or melt. These should be avoided due to potential severe injury.

Gloves – Leather gloves are preferable.

Footwear – Good leather boots offer protection from fire and scrapes. Heavy rubber boots also work well.
The prescribed fire is scheduled to take place on February 18, 2013. The landowner is still finalizing preparations and is studying weather patterns, so this date could change. If the date of the prescribed burn changes, a follow up email will be sent ASAP to interested persons. In the meantime, let us know if you are interested or have any questions. Larry Stark can be contacted at 830-796-3334 or at larry.stark@tx.usda.gov.