It seems more intensive lesser prairie chicken management is on the horizon as chicken numbers continue to decline across its range. The Texas Parks and Wildlife Department (TPWD) will host a public meeting on February 25 in Morton, Texas and a stakeholder meeting February 28 in Austin to discuss the draft range-wide conservation plan for the lesser prairie chicken. The plan represents a multi-state effort to conserve the prairie chicken and its habitat, and to address its proposed listing as a threatened species under the Endangered Species Act.
The U.S. Fish and Wildlife Service is expected to publish a final rule on the status of the chicken in September. It appears that the "endangered" status of the lesser prairie chicken is definitely on the table.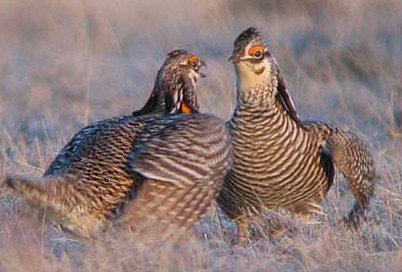 The range-wide prairie chicken conservation plan is being developed by the TPWD, New Mexico Game and Fish Department, Oklahoma Department of Wildlife Conservation, Kansas Department of Wildlife, Parks and Tourism, and Colorado Parks and Wildlife Department. The plan includes wildlife management goals and voluntary conservation programs and practices to be applied throughout the lesser prairie chicken's range. The final plan will be submitted to the USFWS by March 31. TPWD has been soliciting feedback on the draft plan, and will continue to do so until March 8.
The Morton meeting will be held at 6 p.m., Monday, February 25 in the U.S. Department of Agriculture Service Center at 200 West Taylor Avenue. The Austin meeting involves a diverse set of invited stakeholders, though it is open to any interested parties. It will take place at 2 p.m., Thursday, February 28 at TPWD headquarters, 4200 Smith School Road. At the meetings, TPWD biologists will discuss the plan and answer questions about how it might be implemented in the Southern High Plains region of the state.
The draft management plan, which will impact Texas and neighboring states, can be viewed on the Western Association of Fish and Wildlife Agencies website. Comments about the draft plan may be submitted via email to Jan Caufield of the Ecological Management and Research Institute at janc@gci.net. The deadline to submit comments about lesser prairie chickens and their management is March 8.