Landowners interested in habitat management for wildlife and/or range management for grazing animals should consider attending the Holistic Management International (HMI) field day that will take place in Boerne, Texas, on May 10. This is for Texas landowners that are interested in long-term, sustainable grazing of livestock into the future. Since proper grazing management go hand-in-hand with habitat for wildlife, you can't go wrong here if you want to do good for the critters found on your property, too!
Habitat Management – Spring Creek Ranch Day Announcement
HMI: Our Spring Creek Ranch day is part of HMI's new Open Gate On-Farm Learning Series. Open Gate is an action-based approach to learning. You — and the group — have the opportunity to identify common problems and discuss common solutions in a friendly atmosphere. With experienced facilitators and producers on hand, the goal of the day is to identify and solve a current problem — and to create a forum for sharing practices, ideas, advice, and solutions to that problem. The process: small groups of people come together to work on something that is real and current, and each person gets individual time from the others. When you leave at the end of the day, you'll take away practical ideas on how you can increase profit, production and performance for a sustainable ranch operation. These strategies will also help with whitetail deer management and improve habitat.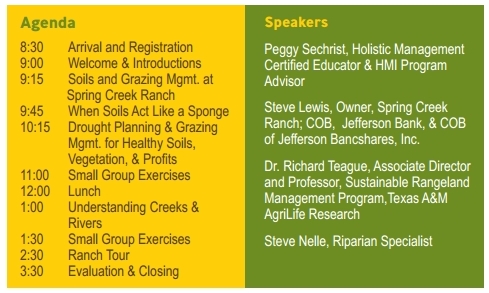 At the Spring Creek Ranch Day you'll…
• See what local land managers are doing to maintain land health & profitability during drought
• Discuss practical stocking/destocking strategies
• Better understand critical monitoring criteria
• Evaluate herd management strategies
• Understand how best to maximize recovery
• See how you can improve riparian health for increased forage production
• Get tips on how to increase upland forage health
• Hear how Holistic Management® enables producers to better manage risk, make better decisions and enjoy the benefits of sustainable agriculture.
About HMI: "HMI is an Albuquerque-based international non-profit organization. Our mission is to educate people to manage land for a sustainable future. We accomplish our mission by delivering a variety of programs and services designed to educate and support farmers, ranchers and land stewards through Holistic Management®, a whole ranch/farm planning system that addresses the environmental, economic, and social issues farmers and ranchers face today."