The spring turkey hunting season is just around the corner, so to increases your chances of success it's always good to know how to find a turkey roost. You can find wild turkey roosts by identifying roost trees and listening for calling birds. Wooded areas in more open habitat make it a no-brainer; littered with feathers and mixed with droppings indicates a good roost site. In lare forested areas, it can be difficult to pin-point birds since turkey have numerous places to roost.
In general, the "how-to" of finding roost can be shortened if you narrow the search to areas likely to have turkey roosts, such as creek bottoms and wooded ridges. Hunters can also listen for birds flying up in the evening. The most sure method, however, of finding a gobbler roost is to elicit gobbles from roosted toms, which are known to gobble at dusk to alert hens in the area of their presence.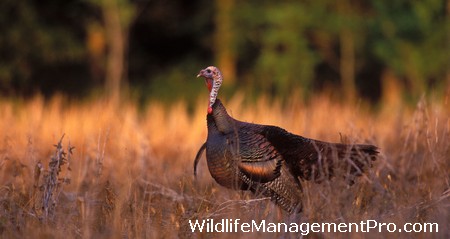 Source: In general, wild turkeys roost on primary branches in trees with at least 20 to 30 feet of branch-free trunk; this helps foil predators. Older and larger trees (with a trunk 20 inches or larger in diameter) are preferred. But I've seen birds roost in giant cottonwoods that two men couldn't wrap their arms around, and in frail mesquites that looked like they couldn't support a quail.

Sturdy branches that grow at right angles from the trunk are requisite for easy perching. This essential structure can be the key to identifying which species and size of tree that turkeys prefer to roost in. Find big trees with wide-spanning branches and you just may locate a roost. On one slope it might be a red oak, on a neighboring slope, maybe it's a grand old sycamore tree
.
In many regions of the country, you can predict the favored species of roost tree. In the Midwest, East, and Northeast, oaks (especially mature white oaks) and basswood make prime roosts. Birds often choose pines in inclement weather because their limber limbs tend to bend (and not snap) in stiff winds. In the South and Southeast, cypress, sycamore, live oak, and loblolly pine are favored. On the prairie, river-bottom cottonwoods serve, especially those bordering open fields. In the West, mid-slope ponderosa and other pines provide ideal roosts.

Locate concentrations of droppings and feathers beneath large trees. Squeeze the droppings to assess their freshness. Chalky droppings indicate a retired roost, but moist droppings are a sign that it's being used and may be a good spot to hunt. Sometimes birds use the same roost daily. More often, turkeys work a circuit of sites, especially in big woodland habitat. Roosts are often near feeding areas, because birds forage hard after coming down in the morning and early evening.

When you locate a good spot, listen for that first daylight gobble to ring out to confirm that your assessment of roost preferences is correct.