There is a right way and a wrong way when it comes to farm and ranch land management. Often times, folks just keep in doing what they've always done because that's how it's always been done, regardless of whether it's a good thing or not. If improper, then the habitat degrades and become less productive for ag production and the wildlife value decreases. As a farmer, rancher, or land steward, you know that one of your greatest assets is the land you work with, and managing that land can be tough due to weather conditions, environmental pressures and high input costs.
The Whole Farm/Ranch Land Management Program is designed to help you enhance the health, productivity and profitability of your land through the practice of Holistic Management. This hands-on course is taught by Holistic Management Certified Educators and experienced agricultural producers, wildlife biologists and other facilitators. Be prepared to get your boots dirty because the course is taught on holistically managed ranches and farms. The land management class covers Holistic Decision-Making, Grazing Planning, Biological Monitoring and Land Planning.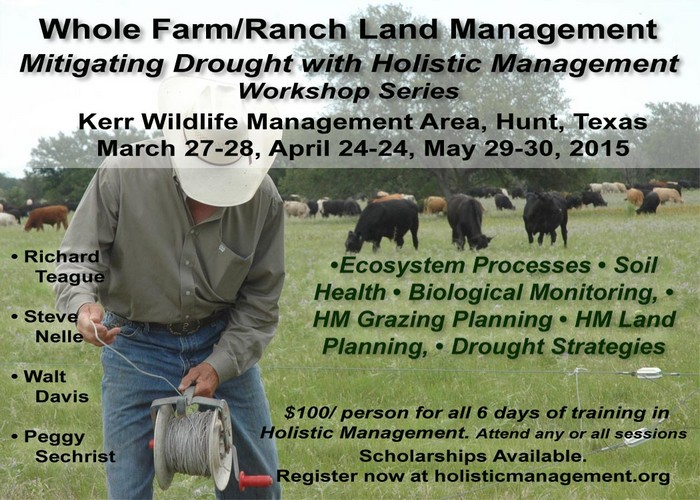 The six-day course is taught over approximately 6-12 weeks in 2-day increments, so you'll have plenty of time to start applying what you have learned, while you're still enrolled in the course. Each day starts at 9 am and ends at 5 pm and there will be plenty of time to network with other ranchers interested in improving their ranching skills. Your learning curve will be shortened by being on a ranch that practices Holistic Management and has built out water and fencing infrastructure and completed successful land improvement projects. At the completion of the course, you'll have a personalized Holistic Goal, a Biological Monitoring Plan, a Grazing Plan, and a Land Plan. You'll also be well prepared to:
Make effective farm/ranch decisions with the big picture in mind
Improve the health of your ecosystem with effective ranch management
Improve your rangeland and pasture productivity, water-holding capacity, soil health and wildlife habitat by applying effective ranching techniques
Build the landscape you desire and mitigate the effects of drought with better forage utilization and grazing planning
Improve land health and wildlife habitat by understanding and working with key wildlife habitat indicators
Create a monitoring plan to track performance and analyze natural resource issues
Create a land plan that will pay for itself with the right prioritization and investment strategy
HMI Holistic Management Whole/Farm Ranch Land Planning Course, land planningManage grazing and animal impact to improve soil and forage standards and build resilient landscapes
Know when to and how to destock
Create infrastructure and development strategies to create more profit
GET IN THE CLASS: Sign Up Now!