Managing suburban deer populations is a challenge for both home owners and wildlife management professionals. So when the phone range, I knew it was going to be a tough day. The phone call came from a suburb known to have a robust white-tailed deer population and have emotionally charged debates about their "issue." Somehow, a buck had gotten wrapped up in a tangled mass of volleyball net and 3 heavy posts. Adjacent the "court" was a lush, green food plot consisting of a yard overseeded with annual ryegrass. The net covered his eyes and his mouth, and we weren't sure he would be able to eat or drink on his own.
This is a familiar scene in urban, suburban, and rural suburbs with overabundant deer populations. Because deer management in communities can be emotionally charged, and lead to conflict between neighbors, it's a good idea to get assistance from professional wildlife managers. A one day workshop will be offered this May to provide that guidance, entitled "Addressing Conflict with Deer in Our Communities." The workshop will give residents, communities and municipal leaders the tools, information, and management strategies they need to resolve conflict with deer and about deer.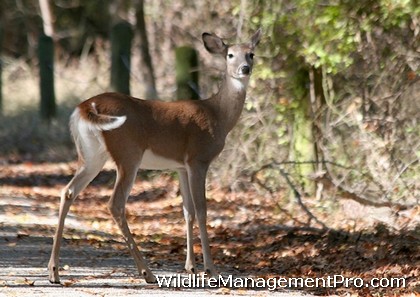 Topics will include:
Why do white-tailed deer thrive in our communities?
Evaluating your situation and identifying measures for success. How bad is your deer problem?
Identifying and building support for deer management solutions
Real world case studies: What worked and what hasn't?
Deer management tools and solutions
Regulatory authority versus management responsibility: Whose job is it?
When we arrived, the white-tailed buck seemed to be waiting for us, less than a hundred yards of the landowner's "food plot." After a few false starts, and just at the right moment, we made our move. The deer saw through the ruse (and the netting), skirted between us, and gracefully jumped over a 6 foot privacy fence and trotted casually away. All 3 of us rolled our eyes and immediately packed up our fancy equipment. If the buck could do all that, he didn't need our help. This suburban deer was going to be fine.
It turns out, as is often the case, that the problem was never about the deer. It was about the different human opinions on how to manage the deer. We spent the next few months providing recommendations to resolve the underlying conflict within urban environments with a proactive, rather than reactive approach to managing the local deer herd. I hope that both this community and your community joins us in San Marcos on May 29th for a great workshop.